The system will endure; the sky will not fall
To The Eagle:
Has Bill Coons come unhinged? Politicians have to acquire thicker skins than the rest of us when they run for office. However, Mr. Coons has stooped to singling me out for the letters that I have written to this paper criticizing his performance as assessor.
I have written my share of letters to newspapers when I thought the public deserved to know what I had experienced or researched concerning public officials. Over the years, my husband and I have taken on corporations and government agencies in order to expose their malfeasance, and our actions are well documented by national, state and local media. We have been commended by U.S. senators and representatives for pursuing our concerns for the public good. Our life experience has taught us that those officials who tout their professional credentials and experience do not always possess the integrity to treat the public in a fair, respectful and straightforward manner.
Our current assessor, Bill Coons, seems to be so worked up over my letters to the editor that he had to hit back. Last Wednesday, my husband and I had just returned from a stressful week in hospital when some flowers were delivered by the local florist; it was a tired seasonal arrangement in a vase of cloudy water, but I was somehow pleased to see it, under the circumstances. But the card on top was addressed to me, not my recuperating husband. My quizzical smile quickly turned to disgusted disbelief when I read the message inside, "Love you too Karen – Bill." I got the message, Bill. I wonder if Bill sends flowers with offensive, condescending jibes to all his critics, or is it just to the women?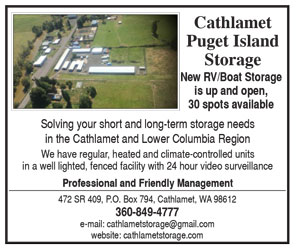 This is rude, inappropriate and childish behavior unbefitting an elected official. I had no "personal vendetta or axe to grind," as Michael Dahle, Mr. Coons' appraiser, paints everyone who disagrees with his boss and him. Apparently, Mr. Coons needs to strike back at a woman who questions his professional competence and authority. Bill Coons seems unable to control his temper when it comes to both appraisals of property and appraisals of his professional ethics.
Addressing Mr. Coons' supporters, I have to say that the sky will not fall if his opponent is elected: we will still be assessed and we will still be paying taxes. The system will still endure and hopefully improves.
Karen Cressa
Cathlamet