PUD commission hears project progress
The Wahkiakum PUD Board of Commissioners met briefly on Tuesday to listen to reports.
General Manager Dave Tramblie said that the tree trimming contractor and the pole testing bids were on hold until the current health issue was resolved.
The PUD line crew is replacing outdated conductors on East Valley Road. They completed one 1,200 foot section a couple weeks ago, and are planning to do another 1,200 feet.
There is another project planned at the Rosburg Community Hall where they will remove and replace some old underground and overhead wires because of safety issues.
The Skamokawa Water consolidation project will go before the local planning commission this week. If it is approved, it will then be presented to Wahkiakum County commissioners for their approval. Tramblie hopes the PUD can go out to bid on the project late next week.
Tramblie said that the PUD's project to replace all their meters with automatic meter reading meters has decreased meter reading time from 11 days to three days, which has given the crew more time to maintain the meters and the meter sites.
The PUD's new broadband consultant, Steve Carson, began work on Monday. Commissioner Gene Healy thanked Tramblie and PUD Counsel Tim Hanigan for getting a consultant on board.
"Hopefully we'll start to make some headway on grant applications," Tramblie said, "and get the word out that we need some help here."
Commissioner Bob Jungers asked if the PUD had received any more comments regarding the possible financial consolidation of their three systems—the Electrical System, Western Wahkiakum Water System, and Puget Island Water System.
Currently, each system has its own budget, based on the income it generates. On November 26, 2019, the commissioners approved the budgets for the 2020 year, with expected expenditures of $4,348,380 for the Electrical System, $383,925 for the PIWS, and $379,660 for the WWWS.
"The public hearing is intended
to start a dialogue between the district and our customers to consider consolidating all of our individual systems into one entity," Tramblie said on May 5. "The purpose of such consolidation would be to provide debt relief to the Western Wahkiakum Water System. Those resources could then be used to support much needed capital improvement.
"It is intended to provide assistance in our ability to build a fiberoptic network; we believe this qualifies it as an essential service. We think that it may be appropriate as a county wide utility provider to use our resources to support our systems where needed, keeping in mind our mission statement to provide most reliable services at the most reasonable cost."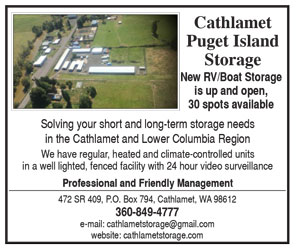 The PUD has received five yes votes and two no votes since then.
"I guess we can take that as tacit approval of the idea," Jungers said.
Commissioner Dennis Reid wondered when the PUD might come out of their emergency proclamation, which they declared in April.
"There is going to come a point and time when I'll need to get the guys together in vehicles and not one guy per truck and we need to get the front office open at some point," Tramblie said. "I'm hoping to get more directive from the governor's office. It's my understanding that we need to go into Phase 3 before we do that."