Commission candidates state their views
The Wahkiakum County Republican and Democratic Parities held the first in a series of planned online forums June 24 to give Wahkiakum County residents an opportunity to know the candidates in the coming election.
Three of the four candidates for the county commissioner answered questions this time around. Incumbent Mike Backman is being challenged by Lee Tischer, while the other incumbant, Dan Cothren, is being challenged by Tim Lawry. Lawry did not participate in the online event.
The candidates answered a number of questions, including the three below. The rest of the forum can be found on YouTube.com by searching for the Wahkiakum County Commissioner June Forum.
What are the barriers to the job?
Dan Cothren: Making sure you are following the rules. Sometimes I have to go down and talk to the prosecutor because there are ways that I would like to do things, but you are restricted to do those things, so it makes it very tough to get where you need to be. The bureaucracy is huge, and you run into those roadblocks all the time, dealing with unions and different things. I guess you learn as you go.
Mike Backman: One of the biggest things that make it tough is all the regulations and all the money. We don't mind doing things right. It's just the fact that they throw the money on there, so that we can't afford to fix our own culverts or we have to keep applying for grants. We have to expend energy that could be going forward doing work, doing studies to see about doing work. Always chasing the dollar, that's the biggest thing that makes this work hard to do.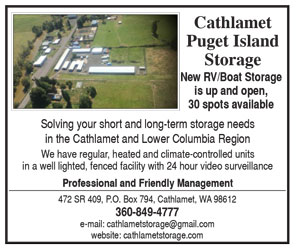 Lee Tischer: I would say one size fits all regulations. What one looks like in King County definitely does not look the same in Wahkiakum County. Another big obstacle I can see is unfunded mandates. There seem to be more of those all the time, coming down the pike, and they put more pressure on the counties to come up with the monies to meet their needs.
How supportive are you with the sheriff's office enforcing state and county laws and policies?
Lee Tischer: I'm very pro police department. I serve on the Law and Justice Council, and deal with them directly a lot. I've recently been asked to join the citizens committee to investigate police involved shootings. An example of our local police and what is so great about them, is an incident that happened a while back where a weapon was drawn, and our police force stepped back and let the thing simmer down and didn't take quick action, like you see a lot in the news. They are more community oriented than a lot, and it's very appreciated, so I'm very supportive of the police department and how they handle situations locally.
Dan Cothren: Yeah, when all the demonstrations came down here in the last few weeks, I talked to Mark Howie about being invited to one of his group sessions with his deputies and I went in and told them that the commission had their backs, and that we highly supported them. I can't say enough for Mark Howie. I think Mark Howie has some common sense. He is always looking ahead and communicating. Communication is the huge issue. If you don't communicate, nothing gets done. You have to communicate. We've got a lot of young deputies, new guys that are on. With things that are going down, I think they need the public support. I think the people of Wahkiakum County need to give them a call, or when you see them, thank them for what they are doing, because they have one heck of a job. It's not for everybody. It takes a unique person to be a deputy and to want to be somebody in the police department. I've got to commend all these guys. They do a great job, but I think the key thing is they communicate.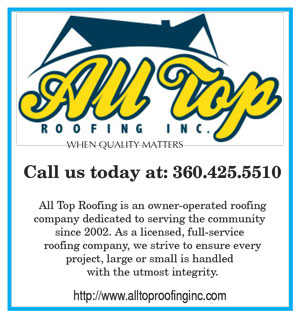 Mike Backman: I also believe that Howie is doing a great job and that we have a good force. I think we are all blessed to live in this community. I think they are happy to be here when they see this mess that's going everywhere else. And just as lucky as our citizens are to have them, they are lucky to have those citizens. I support him and the team, and wish them the best going forward, because these are crazy times.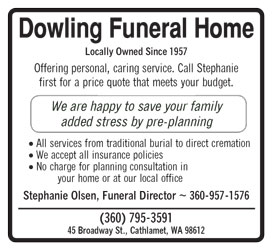 Many calls to the sheriff's office are complaints about excessive noise, barking dogs, and livestock on the roads. Do we need ordinances for this? Why or why not?
Dan Cothren: We don't have open range and we are rural. We have a lot of new folks that have moved here and are probably not used to some of the things. A person builds a fence, cattle go through, elk go through, knock the fences down, the cattle get out on the road. The people need to understand, we are a rural community. Livestock does get out. I've run into some growing up. That was more of an open range, but now it's closed. You've got to work with your neighbors. I think some people overreact. I think it's good to call in to make sure that the cattle get off the road. I know that I've had to put cattle back in on Elochoman. That's just the way of life it is in Wahkiakum County. I don't think you need an ordinance for that.
Mike Backman: I agree with Dan. I don't believe we need an ordinance. I think that we live in a rural area, and we like our property rights and we'd like to work with our neighbors and settle it by working together instead of making a rule that would appease one small group. We'd rather do the work of actually talking to the people and trying to understand where the problem is and addressing it that way.
Lee Tischer: If there are already ordinances on the books in regards to loud dogs, I think eventually they have to be enforced, but neighbors usually talk it out. I don't believe in over-regulating. We are rural like Dan says. I've chased cows too, on our way to a wedding once. I do agree, we don't need ordinances for everything but we have to be good neighbors to one another.