Downriver Dispatches
News of Western Wahkiakum County and Naselle
Darrell Alexander
The Power of Water:
Grays River Grange Landslide
In some of the previous articles I have discussed the power of water and how it has affected our lives. It is more evident in Wahkiakum County every year by freshets flooding the lowlands and the numerous landslides that permeate the area.
In this last month the Washington State Department of Transportation (WSDOT) has been clearing debris from a new slide on State Route 4 across from Grays River Grange #124 just west of Duffy's Irish Pub. This was a minor slide that blocked only one lane, and WSDOT was on top of it and got the slide cleared before many even knew there was one.
When I was a teenager I hitchhiked across Canada when a section of the highway in Manitoba was just a single gravel road with no telephone or power lines for over 100 miles. I was stranded in one spot for two days.
In reflection, I have come to appreciate the roads I travel in the Westend in spite of the yearly slides. One never knows when or where the power of water will impose itself on the local hillsides and push them lower and lower. In 100 years, who will care? The new readers of The Wahkiakum County Eagle will. They will hear of the stories, and new writers on The Eagle staff will tell of the exploits of bygone years when the power of water prevailed over the beautiful Wahkiakum County landscape.
Westend News
The Appelo Archives Center on State Route 4 in Naselle will soon announce their new director for the archives. It is not yet known who the new director is, but many of us like me are looking forward to when the center will reopen. This historical landmark has served the community distinctly for years and will continue for years to come.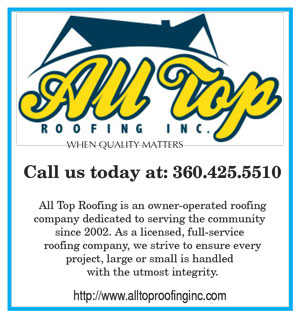 I personally look forward to the reopening so I can research the archives to bring the community stories that are informative and entertaining about the area where we live.
The community also looks forward to the time when the Archives Café opens. This is the place to see and enjoy.
The Appelo Archives Center is dedicated to encouraging the study of region-wide history by preserving historical collections, sponsoring cultural activities, facilitating genealogical research, and fostering Scandinavian studies, with an emphasis on Finnish American culture. Your support is much appreciated! Volunteers are always needed. Their 2020 Archives membership: Individuals $20, Families $30 and seniors $15. For any questions regarding the Archives call 360-484-7103 or check out their website at http://www.appeloarchives.org.