Community center coordinator ready to start new programs
Courtesy photo
The next time you step into the Community Center in Cathlamet, you might be lucky enough to meet the new coordinator, Cecile Bamer.
Bamer has already been involved in many projects in Wahkiakum, providing support for the Lions Club Helping Hands, or trying to revive a nonprofit in the midst of a pandemic.
She's an active, physical person, who loves new challenges.
"I love learning," Bamer said. "I love a vertical curve. I'm constantly in that space."
Vertical curve, indeed. She is reticent to talk about it, but she competed and placed in international rodeo, and she worked for a utility company in Seattle for many years.
"I trained as a lineman, had a lot of experiences out there fighting and trying to get legitimacy for being a female and being a lineman at the same time," Bamer said. "There were barriers I ran into continually."
"Yes, I have stories, and I'm not afraid of things," she added, "but I care about people and I want to lift people up. I've always wanted to mentor people."
Now she will get that chance.
Besides the inherent duties of keeping the community center open for groups or people who want access to computers, phones, and charges, she is working with Wahkiakum 4-H and more specifically Carrie Backman, the director for Wahkiakum's Washington State University Extension office, to create a mentoring program for kids from kindergarten to 12th grade.
The ideas behind mentoring are moving away from the notion of one-on-one interactions to more of a group activity model, a structure that allows mentoring between age groups, up and down.
Bamer is excited to be a part of a collaborative effort to build that program. She's also sinking her teeth into the creation of a long term program to make the community center an employment resource center for Wahkiakum, an outreach arm for WorkSource.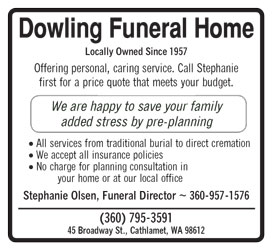 "I think there are a lot of people out here who want a job, and they don't know they can walk in here and have access to all the jobs listed in WorkSource," Bamer said. "I know how hard it is. If you don't know somebody, or know the system, or know how to find jobs, it's pretty crazy."
The center has been open for six years, and the community is still trying to define the space.
"It has been jam packed with a lot of people that have a lot of passion," Bamer said. "They really want this to be a community center: a senior center for healthy aging, potentially a visitor center and opportunity center for people who need access to services or WorkSource. It's a social connection, it's got activities in it."
"I hope to build some programs and structure so we can figure out what the next step looks like after that," Bamer added. "I'm hoping we can pick up post-covid, with these groups and more."
"My husband encouraged me to do something close to my heart," she said. "There are a lot of skills I don't have, but I'm good at connecting people with the right resource. I wanted to be local, I wanted to work with people on the ground, doing work force development work, helping people pass barriers so they can live their lives. This is exciting."