Violence at capitol was planned
To The Eagle:
Last week we were treated to a ponderous editorial political polemic based on the elemental journalistic principle "size matters" (18½ inches). In counterpoint, here's a more modest factoid collection:
The insurrection-style violence at the capitol was planned three weeks in advance on social media. The FBI knew about it and notified other agencies including the Capitol and D.C. Metro Police, who were nonetheless unprepared. Antifa and BLM types apparently lead the charge, and one, John Sullivan, was taped describing his Trump supporter disguise and tactics, and was interviewed by Anderson Cooper posing as an innocent journalist. Most of the legal aftermath will be cast down the memory hole created by the social media blackout now underway, and totally lost after the ascension of our new Suppressor-In-Chief.
The blackout: 71,000 Twitter accounts suspended or canceled including President Trump and several other major players. The entire Walk Away movement banned from Facebook and all references to "Stop the Steal" deleted by Facebook. Parler (the Twitter alternative) shut down by Big Tech. The text of the president's speech is available in print and on video, and contains no statements inciting violence. Democrats refer to "coded speech," but only they were issued the secret decoder rings.
Our editor laments the loss of more subscriptions due to his publication of AP articles. It's an understandable sentiment. The January 7 AP article was headlined, "Trump pressures Georgia election chief: 'Find 11,780 votes' " in quotes as if he actually said it. He didn't. But we still advocate against canceling subscriptions because of the other excellent local coverage features of The Eagle. Rumor has it that local Republicans are starting a newsletter that may have a better approach to regional and national political and governmental issues. We won't offer contact info since conservatives are prudently keeping their heads down because of the left's targeted violence.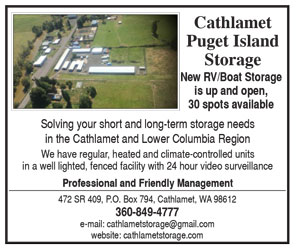 Howard Brawn
Puget Island