Jordyn Watson
Jordyn Watson, who has been attending school in Wahkiakum County since the fifth grade, seems at home in her position as an outside hitter for the Mule volleyball team.
Prior to her freshman year, she'd been central to team play as a setter, she said, but Coach Kayli Hurley decided to move her to the outside position instead, and she's been racking up kills ever since.
"I love hitting," Jordyn said.
If you've ever connected a well timed strike to the ball while simultaneously gaining altitude, you know what she means. It's powerful.
The loss of athletic events has been hard on a lot of students, and Jordyn, like her teammates, is grateful they not only have this time together, but that they finally get to compete.
"It's really exciting," she said. "I'm really glad I'm getting to have at least a partial season instead of not having one at all. Everyone on the team is so positive and uplifting and the energy on the court is always high energy and everyone is supporting each other and pushing each other to be their best. It's just a lot of fun."
She takes leadership and natural resources from her favorite teacher, Kyle Hurley.
"Mr. Hurley has such a positive mindset on life," Jordyn said. "I like how he tells everyone to 'make a difference' whenever he passes them, to remind them that they can."
She and her classmates are planting vegetables in the greenhouse for his natural resources class, and eventually they will learn how to make different foods with the plants that they grow.
Gardening is okay, but hiking is a lot more fun. She's done a little bit of that with family and friends on the Oregon Coast and hopes to do more some day.
Her favorite class is chemistry with Jeff Rooklidge, where she most recently conducted a food science project involving salt water taffy. Sadly, that experiment became more research than salt water taffy, when she realized she'd forgotten some ingredients.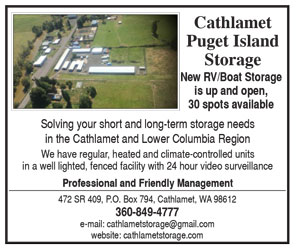 Jordyn plans to attend Central Washington University in Ellensburg, to join a pre-physical therapy program before beginning a graduate level physical therapy program elsewhere.
"I wasn't sure what I wanted to do," Jordyn said. "I thought maybe I wanted to be a teacher. Someone suggested that because I love volleyball so much, that there were programs where you could be a physical therapist and travel with teams. I thought that was cool."
Jordyn is the daughter of Andi and Garrett Miller.
I