Commissioners act on elections position, hear weed spray concern
Wahkiakum County commissioners on Tuesday set the salary for a new elections supervisor position and planned a meeting of county officials to consider adjustments to their salary schedule.
They also heard concerns about herbicide application; they voted to give employees 3 percent cost of living raises, and they discussed concerns over noxious weed control.
Auditor Nicci Bergseng last week requested the board approve a memorandum of understanding with the employee union to create the elections position and asked that it be paid at pay class 8 on the salary schedule.
When other department heads expressed desires to see some of their employees receive new, higher paid classifications, the board delayed action to this week so they could study the matter.
On Tuesday, Bergseng commented that the new position is not a realignment but is an entirely new job designed to meet state election requirements, which have significantly increased in the past few years, and that the position was included in the 2021 budget as developed by the board of commissioners last fall.
Bergseng said she had researched the salaries of similar jobs in neighboring counties and found that the average was higher than Wahkiakum would pay at pay class 8.
After discussing the issue further, the board approved Commissioner Dan Cothren's motion to set the salary at pay class 7, and they also agreed to have their Salary Committee consider salary table adjustments.
"My take on what should happen--anything that would go to an eight should go to the salary group," Cothren said. "That's where the decision should be made.
"I have no problem with a seven; people didn't agree with an eight. I'd like to keep it at seven now and go to the salary group."
"The discussion occurred before I came on board," said Commissioner Lee Tischer, who won election last fall. "I don't recall any documentation where I saw that a step was established, so I'd be fine with a seven."
Commission Chair Gene Strong commented that covid-19 pandemic response had limited officials' ability to meet and work on issues such as the salary schedule.
"It's left stuff sitting there smoldering," he said. "That's what we're looking at -- how can we address this with all the department heads? Jobs have changed.
"Covid really put us in a stall. Bear with us; give us a chance."
In other business, commissioners passed motions to adopt resolutions giving 3 percent cost of living raises to the county's union and non-union employees and the prosecuting attorney. They excluded themselves from the raises, and they excluded ferry workers covered under their own union contract.
Commissioners also heard concerns from Middle Valley resident Gerald Ledtke that the county's noxious weed control crew could trespass under the county's weed control ordinance.
Ledtke felt that as the ordinance is written, the weed crew could come on private property and spray plants classified as weeds, such as blackberries and Reed's Canary Grass, which do have value to wildlife and farmers.
The widespread use of pesticides damages bee populations, and the chemicals cause cancer, he said.
Commissioner Cothren suggested Ledtke take his concern to the weed board commissioners.
"They're the guys you need to talk to," he said. "I'm not going to micromanage the weed board."
Strong added that a published notice explains the law, but "it doesn't mean that is the way they'll operate."
In past practice, weed control personnel have entered private property only when a land owner hasn't controlled a serious infestation of a weed, such a toxic tansy ragwort. Normally, they work cooperatively with land owners to control weeds.
Commissioners and officials discussed offices' space needs and possible remodeling of the Health and Human Services Department's Hope Center to address the situation.
Sheriff Mark Howie and Health and Human Services Director Chris Bischoff both said their offices had space needs.
Bischoff said the Hope Center--formerly the United Church of Christ--needs significant remodeling to meet department requirements, especially for client confidentiality.
The county is set to receive $437,000 in federal American Recovery Act funding in May, and a similar appropriation in 2022, and some of that money could go to remodeling, he suggested.
The county would need to engage an architect to work out a design and cost estimate, said Public Works Director Chuck Beyer.
"We need to look at the cost to see if it's in the realm of feasibility," said board Chair Gene Strong.
"We're not in a big hurry, but we need to do something with the Hope Center," Bischoff said.
The county needs to create a new position of public records manager, said Prosecuting Attorney Dan Bigelow.
Public records law has strict provisions for responses to requests for records, he said, and there are financial penalties for not responding quickly or properly. This has created a business opportunity in which people who make requests go after penalty awards if government personnel don't respond.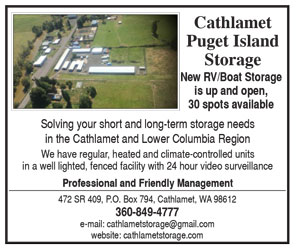 "More and more people are making the requests," he said. Two county personnel are spending much of their time on responses, he said, taking their attention away from their regular duties. Requests are also going to low-level or part-time employees, hoping the personnel won't know what to do with the requests and that responses won't be made in time, resulting in a penalty claim.