Health department adding 3rd covid shots
Yesterday (Wednesday), the Wahkiakum County Health Department (WHHS) began administering third doses of covid-19 vaccine to people with compromised immune systems, as defined by the US Centers for Disease Control and Prevention (CDC).
The CDC approved the third dose regimen over the weekend.
"The CDC is indicating that people who are seriously immunocompromised and had either the Pfizer or Moderna vaccine should get a third dose," WHHS Director Chris Bischoff said in a Tuesday email. "There is no indication yet for the Johnson and Johnson vaccine. The CDC would prefer that the third dose of the vaccine be the same as the original. The CDC does indicate that it can be interchangeable.
"For us, we will begin offering third doses to anyone who meets the CDC's requirement for severely immunocompromised and already had either the Pfizer or Moderna vaccine. We only have Pfizer, so that is what we will use to give the third dose.
"I've looked at some of the science on using either of the mRNA vaccines for the third dose and it looks solid, meaning that getting a third dose with a different mRNA vaccine, from the first two, seems as efficacious as getting all three from the same manufacturer.
"We will give third doses of Pfizer during our normal clinic times: Monday and Wednesday 9 a.m. – 12:30 p.m. and 1:30 p.m.-3 p.m. This will start at our Aug.18 clinic going forward.
"If anyone prefers to get Moderna they will need to find another source.
"We will not ask for any sort of verification on immunocompromised status; we would encourage anyone who thinks they qualify to consult with their primary care provider.
"It is important to note that this does not apply to the Johnson and Johnson vaccine. There has been no indication from the CDC on another dose for J&J. If someone originally got the J&J and wants to switch or augment with one of the mRNA vaccines or another dose of J&J, we cannot.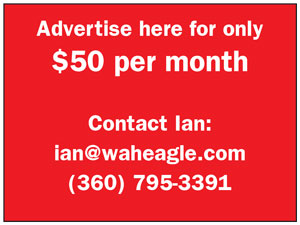 "The third dose must be at least 28 days after the second dose of Pfizer or Moderna."
Vaccines are freely available to anyone 12 or older in the county. Health personnel say that getting vaccinated is the best possible protection from covid-19. WHHS encourages everyone who hasn't already been vaccinated to contact the health department or their personal medical provider and get scheduled. Phone 360-849-4041.