Biden did not discourage vaccine research
To The Eagle:
Rising gas prices are not a "Democrat caused problem." According to a June 10, 2021 fact check from USA TODAY, fuel prices began rising well before Joe Biden was elected. Clearly, action by Democrats is not solely responsible for the increase.
"Gas prices fluctuate regardless of who is in office," said Molly Hart, a public and government relations spokesperson for AAA. "During the past year and a half, pump prices have primarily been driven by the pandemic's influence on supply and demand."
Biden, speaking for Democrats during his campaign, did not discourage vaccine research and production, but expressed suspicion and mistrust at the possibility Trump might misuse White House power to pressure Operation Warp Speed into premature production of a questionable vaccine ahead of the Nov. 3 election.
Operation Warp Speed was the coalition of privately funded research and federally funded CDC and NIH scientists who brought the COVID vaccines to fruition in record time.
Biden said "Let me be clear. I trust vaccines, I trust scientists, but I don't trust Donald Trump. At this moment, the American people can't either. Scientific breakthroughs don't adhere to election cycles. Their timing, approval and distribution should never be distorted by political considerations."
Trump subsequently "redirected" into the Warp Speed effort, without congressional approval or oversight, $24 billion pillaged from the Providers Relief Fund, $9.4 billion of which remains unaccounted for. This is a reprise of how Wall Street captured so much of the Small Business Relief Funds – another travesty made possible by a convenient lack of oversight by the Trump administration.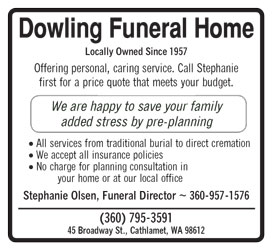 Any good done by that administration will forever be eclipsed by its presidency, irredeemably soiled, by its occupant's mendacious efforts to subvert the integrity of the electorate, and his treasonous attempted White House coup.
JB Bouchard
Puget Island