Salmon fishing to close on portion of lower Columbia River
– A section of the lower mainstem Columbia River below Bonneville Dam will close to all salmon fishing beginning Sept. 4, state fishery managers from Washington and Oregon announced Sept. 2.
The closure, which follows a separate closure on Chinook retention at the Buoy 10 fishery last week, is meant to protect Chinook making their way upriver and into lower Columbia River tributaries. Catch data indicates that the area from Tongue Point/Rocky Point (Astoria) to the Warrior Rock (St. Helens, Orel,) line is exceeding catch projections, and the closure is necessary to help protect salmon listed under the Endangered Species Act.
The section of river upstream of Rocky Point/Tongue Point to the Warrior Rock line will close to all fishing for salmon and steelhead on Sept. 4, while the section from Warrior Rock to Bonneville Dam -- including the Camas Slough -- will close to all salmon and steelhead fishing on Sept. 7, following the Labor Day weekend.
"Fishing has been good, particular in the Cowlitz River mouth area; unfortunately, they have exceeded expectations and our lower river tule catch limits have been met," said Ryan Lothrop, Columbia River fishery manager with the Washington Department of Fish and Wildlife (WDFW). "The delayed closure from Warrior Rock to Bonneville area allows for some holiday weekend opportunity. We'll be monitoring catches and returns carefully, and hopefully we'll be able to reopen for coho later."
The section of river from Buoy 10 to Rocky Point/Tongue Point remains closed to Chinook retention, but open for hatchery coho. The fishery upstream of Bonneville Dam is currently open to salmon, including Chinook. Anglers are also reminded that there is a sturgeon retention fishery on Sept. 11 and 18 in the mainstem Columbia River (and Cowlitz River) upstream of the Wauna powerlines to Bonneville Dam.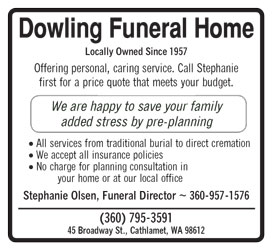 To see more details about these closures, visit WDFW's emergency rules web page at https://fortress.wa.gov/dfw/erules/efishrules/. For all permanent rules, see the 2021-22 Washington Sport Fishing Rules pamphlet on WDFW's website at https://wdfw.wa.gov/fishing/regulations.