Commissioners address mandate concerns
Wahkiakum County commissioners on Tuesday acted on a couple business items, discussed covid-19 vaccine mandates with constituents, and met in executive session to discuss potential litigation.
The board approved a request from Chief Civil Deputy Joannie Kuhlmeyer to raise civil service fees. Kuhlmeyer said fees haven't been adjusted since 2008. Statutes say fees may only cover the cost of service and can't be a revenue generator. Inflation has been 30 percent since 2008, Kuhlmeyer said, but increasing fees that much creates only small actual increases around $5.
Commissioners also approved a contract renewal with the Washington Department of Fish and Wildlife for funding the county Marine Resources Committee for two years in the amount of $77,000.
Cooperative Extension Clerk Donna Westlind said the MRC committee has awarded funding to seven projects which are ready to start as soon as they get funding.
Members of the audience raised covid-19 response issues.
One, Season Long, questioned health department spending on advertising in The Eagle, calling the spending "outrageous" and suggesting it could be spent on programs that help people adversely impacted by covid-19.
"I'll take a look at that," responded commission Chair Gene Strong. He added that the county received funding for covid response that could have been specifically advocated for advertising promoting vaccination and other public health measures.
Another woman asked how the county was implementing state and federal mandates for covid-19 vaccinations and commented that the mandates might lead to resignations by employees who have important jobs and thereby adversely impact public services.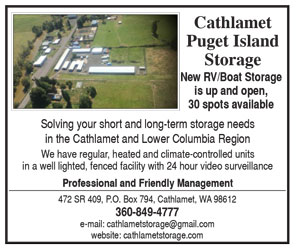 Strong replied that the commission has made no mandates. Mandates from the governor and the Biden Administration apply to specific categories of employees, including health care workers. If the county health department didn't follow the mandates, he said, it could lose certification and funding for the programs it provides.
"We're pretty limited in what we can do here," said Commissioner Dan Cothren. "We control the budget, public works and the health department, and the state has taken that away."
"Our goal is to represent our people," Strong said. "It's important to me to protect our rights."
Strong suggested that citizens can do what the commissioners do to make their voices heard--call or otherwise contact state representatives and the governor to express their views.
Commissioners closed the Tuesday meeting in an executive session with Prosecuting Attorney Dan Bigelow to discuss potential litigation but took no action after returning to open session.