Covid-19 update
Case load steady at 263; omicron arrives in Washington
There were no new covid-19 cases reported in Wahkiakum County this week. The cumulative total of cases in the county stands at 263, with three considered potentially active. The total number of hospitalizations reported rose to 18, and the number of deaths attributed to the virus remains at five.
St. John Hospital was caring for 19 patients on Tuesday.
The state Department of Health reports that 81.2 percent of the population age 12 and over have had one dose of the vaccine and that 74.9 percent of the population 12 and over are fully vaccinated. Meanwhile, Wahkiakum lags far behind with 56.2 percent of the population 12 and over initiating vaccination and 52.8 percent of the population 12 and over considered fully vaccinated.
A total of 4,446 doses of the vaccine have been given to residents in the county. Of the population 65 and older, 59.6 percent are fully vaccinated. The second highest percentage belongs to the population between the ages of 35-49, with 54.8 percent of them considered fully vaccinated.
People between the ages of 50-64 are 52 percent fully vaccinated, while 43.9 percent of people between the ages of 18-34 are fully vaccinated. As for children between the ages of 12-17 that are fully vaccinated, the percentage remains the lowest, at 27.3 percent.
The omicron variant
"It is still early to make assumptions and assertions around this variant," Wahkiakum Health and Human Services Director Chris Bischoff said. "There is a report out of South Africa that indicates that omicron comes with some good news and some bad. According to the study, It appears that omicron not only spreads at least as fast as delta, but that vaccine efficacy is taking a hit.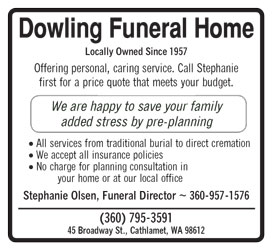 "On the positive side, the rate of hospitalizations appears to be dropping with omicron according to that same study. It is still way too early to put a lot of stock in these reports though. The data is very limited and a host of factors could be at play with this information."
"Omicron is in the state," Bischoff added. "Recently released preliminary results from the University of Washington showed that omicron was detected in 13% of the samples tested in their lab on December 8. Previously delta had been pretty close to 100% of the cases in Washington. The important point for us is, that as long as we continue to struggle getting enough people vaccinated, new variants will continue to arise. For certain, omicron is in our state and most likely in our region, if not in our county. Get vaccinated, get your booster when its time, wear your mask in public, avoid crowded locations, and all the other safeguards. They stay the same for omicron and are still the best way for us to emerge from this pandemic."
"Although the percentage of cases that are the omicron variant are increasing percentage wise, overall the number of COVID cases, hospitalizations, and deaths continue to decrease in Washington and specifically in our region," Bischoff said.
Pfizer medication
"Pfizer has applied for Emergency Use Authorization (EUA) for an antiviral treatment regimen that looks to be very effective at treating covid-19 and preventing the most severe outcomes," Bischoff said. "The Food and Drug Administration is considering the EUA request in the next couple of weeks. This treatment is a course of pills that can be taken at home, this makes this the easiest treatment if it becomes available.
"It is great that doctors will have another treatment option available for people who end up with covid-19. It would be far better to have more people vaccinated though."
WHHS will not have any more vaccination clinics in 2021. The next clinic is scheduled for January 3, 2022.