GR habitat enhancement commission meets
Editor's note: This story has been updated to show correct email address for people interested in fillng the vacant commission seat to contact the district.
Grays River Habitat Enhancement District landowners met with the newly formed district board on June 9 at Johnson Park. District Commissioners Krist Novoselic and Charlie Shumar led the meeting. Nine were present from the Grays River and Deep River areas, though Deep River is not officially part of the district. John Zimmerman, Carol Larson, Sue Amala, Ed Blaine, Ian Sinks from the Columbia Land Trust and John Williams were present, as well as this reporter.
Items discussed included researching differences between diking districts and flood control districts. Novoselic agreed to look into it as there was confusion about the legal aspects of each.
Candidates for the third position on the board include one at this time. Because there was confusion for the public concerning the deadline for applying when the email address supplied to the newspaper was incorrect, it was decided that the deadline for applying should be extended to July 12 to accommodate those who may have not been able to use the correct email. For those wanting to submit a resume or letter, those items can be sent to the district at 1grhed@wwest.net to make sure they are received for the next meeting on July 14, 5:15 p.m., at Johnson Park.
Work items presented to the board included clearing vegetation on dikes and culverts in need of replacement, such as those on Hoikka and Mattson roads, and others described by John Zimmerman, who has worked on and built tide gates for culverts, so it was beneficial having him present.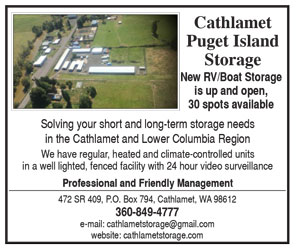 Columbia Land Trust representative Ian Sinks requested a 50 percent match for an emergency replacement of a culvert on their land. Sinks was asked if the trust pays property tax on their property in the district. He answered in the affirmative, stating that was part of an agreement they made with the county many years ago when they first purchased land on Grays River.
Questions were asked about the proposed Seal River Project on SR 4 that includes removing the highway tidegate that isn't working correctly. The project has been presented, but not all landowners are willing to sign an agreement supporting the project.
All present were hoping the Washington Department of Fish and Wildlife will send a project representative to provide an update at the July meeting.
All present at the meeting were pleased to see so much work being done after only a few meetings with the new board members. The email address for the district is 1grhed@wwest.net. Send resumes to apply for the third board seat to 1grhed@wwest.net.