Commissioners okay fair barn project, security upgrades
Wahkiakum County commissioners on Tuesday approved contracts for constructing a small animal barn at the county fairgrounds and security upgrades for the county courthouse.
Commissioners also reported progress in talks with the US Army Corps of Engineers on potential projects to address erosion on Puget Island and siltation of Gray's Bay.
Fair officials have sought funding for the barn, which would house sheep, goats and pigs. The commission approved a $93,988.60 bid for the project. The fair has been awarded a grant from the state Department of Agriculture of $80,529; county Treasurer Tammy Peterson will prepare a loan of county funds to cover the $13,459 difference, with anticipated federal disaster assistance funds planned to repay the loan.
County Building and Planning Coordinator David Hicks indicated construction might not be finished by the time of the county fair because of tight timing and possible supply issues. The contractor, BTN Homes LLC of Skamokawa, hopes to have the outer structure completed at the least, Hicks said.
Commissioners approved steps to increase security in the county courtroom and courthouse.
First, they authorized District Court Judge Heidi Heywood to accept a grant from the state Administrative Office of Courts for $17,000 for the improvements.
Next they approved expenditures to upgrade security cameras, add or improve monitors in the courtroom lobby and sheriff's dispatching center, install electronic locks on doors on hallways connecting the courtroom and offices of the sheriff, prosecuting attorney and district court office and finally to install ballistic steel panels in both court clerks' vaults.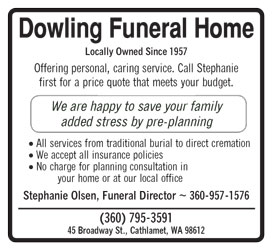 Commissioners reported making progress in talks with the US Army Corps of Engineers for potential projects on Puget Island and Gray's Bay.
Puget Island residents living on the lower portion of East Sunny Sands near the ferry landing have sought beach nourishment for some time because the river is eroding their property.
The Corps has been hesitant to deposit dredge spoils there, fearing the sand would erode and fill the channel maintained for the county ferry.
However, the Corps this year agreed to consider a project there, and commissioners said that in a meeting last Thursday that Corps officials said they would conduct a sounding survey to determine how much shoaling may have occurred in the shipping channel.
The main topic of the Thursday meeting was to discuss the county's request for dredging to open the mouths of Gray's and Deep rivers in Gray's Bay. Westend residents have said the deposit of dredged sand in the area inhibits the flows of the streams during freshets, which leads to flooding.
Commissioners approved and signed a letter on Tuesday seeking Corps assistance in investigating the flooding issues as a first step in developing a Corps authorized response.