Downriver Dispatches
News of Western Wahkiakum County and Naselle
Karen Bertroch
Photo of the week: Theo Burkhalter spent time with me last Saturday so I could interview him in depth about his life, his adoption process, and the Washington State School for the Blind in Vancouver where he lives five days a week. He comes home by bus to Kelso, then is picked up and brought home to be with his family over the weekend, then he catches the bus back to Vancouver on Sunday afternoons. Theo was born in China, then adopted from an orphanage by the Burkhalters. A friend of Susan's told her about Theo's situation, then Susan and Gary decided to adopt him when he was 11 years old. Now 16, he told me that at 14 he enrolled in the Washington State School for the Blind in Vancouver where other youth have similar challenges. He enjoys coming home to the family's dairy farm and going to church on Sundays. He enjoys the dinners at home because he gets to be part of a "real family having dinner together." He says he believes God reached out to Susan to hear his story.
Theo is taking guitar lessons from Gene Quilhaugh and practices every day. He is also working on a book titled, "Who is my real family?" I helped him edit Chapter One and add important details. Writers often get a big idea for a written piece, then change their minds, so it will be fun for me to help him get something started. He asked me for help and doing so is a true joy for me because Theo's imagination is active all the time. He doesn't think about failure or what might keep him from doing something. Instead, he looks for and finds answers to any challenges he might face. He laughs and has a simple honesty about his limitations and his abilities. He doesn't use Braille because he can read very large print if he gets close to his computer screen. He likes audio books and podcasts, too. He is appreciative of all the Burkhalters have taught him. I asked if he had a counselor at the school. "Not really. God is my first counselor and Susan is the second." He also sincerely appreciates his parents. "They have taught me what it means to be a good man. I've learned from Susan how to appreciate what I do have rather than think about what I don't have." While Theo enjoys working on the farm, he considers himself a city person. He enjoys math and loves science. When Theo first came to the United States, he had to learn English because his original language was Mandarin. He has a strong faith in God and believes he can do anything with God in his life. He shared that he doesn't trust all humans because many don't believe in God as he does. He says that like others at the school, he doesn't like depending on others for transportation. The signage and help the State of Washington provides for blind riders of public transportation are important to him. He was adamant that he "doesn't want to depend on others to get where he wants to go." He wants to be independent. He explained to me that he uses his other senses to help him get around and realizes his hearing heavily accommodates him when trying to determine where he is and how to get where he's going. Also, his sense of smell helps him a lot. He says, "Vision doesn't give us more imagination. When you're blind your other senses are more active."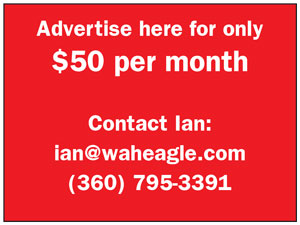 Theo has already determined who he is and what his purpose might be. He feels he needs to share both his faith and his story so that others who are disabled will be inspired by his story "so far." I asked him what a perfect day for him would look like. "Hanging out with my friends at a theme park and riding scary rides." He sees his future down the road as living in a city with an office, marrying and having a family, and studying disability laws. I am convinced he can do whatever he chooses.
Theo is not a young man to dismiss when walking by. He can teach us so much. He doesn't lack confidence, but he also does not brag about himself. He knows who he is and I have no doubt he'll get there.
Brooke Bennett posted this on the GR Grange site: "Last night's Grays River Habitat Enhancement District meeting included a presentation from Jackson Blalock (Washington Sea Grant; University of Washington). He shared about a shoreline erosion project in the Willapa Bay. Many community groups and agencies came together and designed "nature-based solutions" with the goal of establishing "dynamic stability." They placed cobble deposits and large wood on the shoreline to slow erosion and begin accreting sand! Protecting the shoreline brings benefits such as keeping their community safer during floods and storms. There will be a workshop held at the Chinook School on March 30 to discuss ideas for possible resilience projects within Baker Bay. Something Jackson underlined is how important it is to hear from the people who live with the floods and storms and who know their landscape best.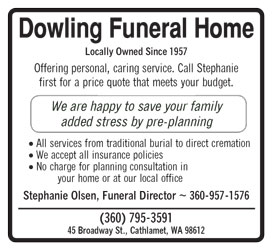 Events:
Tuesdays: Naselle Lutheran Church sponsors quilters in mornings and knitters in afternoons.
Wednesdays: AA meeting at the Grays River Grange at noon.
First Thursday of the month: Gardening group meets at Johnson Park at 6 p.m.
First Thursday of the month: Caregiver Support Group at Naselle Library with Ocean Beach Hospital staff from 1-2 p.m.
March 21: Port 2 meeting at GR Grange at 3:30 p.m.
March 21: School Board meeting at 6:30 in school library.
March 25: Bunny Bingo at school. Hot dogs/Potato at 4:30 and Bingo at 6. Concessions at school. Supports Naselle Sports Club.
March 26. FAFF's building committee meets at 2 then FAFF Board meets at 3 at Naselle Comm. Ctr.
April 8: Easter Egg Hunts in morning and evening.
CAP Senior Lunches: CAP/Thursday Senior Lunches are located inside Rosburg Hall at noon.
Next Wednesday Senior Lunch is April 5, then on April 19. Hope to see you there. Age is not a requirement to come, but if you're 50 or over, come give it a try, especially if you're new to the area.