PUD to replace Grays River water main, meet with WPUDA boss
The Wahkiakum County PUD Board of Commissioners got a visit from Washington PUD Association representatives on Tuesday and approved funding to replace a water main along SR 4 in Grays River.
Dave McKenzie, a Skamania PUD Commissioner and the vice president of WPUDA, Liz Anderson, the Deputy Executive Director of WPUDA, and Stefany Zelapuza, a senior policy specialist for WPUDA talked about the history and purpose of the organization which provides training, commissioner education, and advocates for public utilities.
"The last couple of years, we've had a lot of these Zoom type meetings and we really felt we needed to get out there and talk to each of the PUDs," McKenzie said.
"[WPUDA does] a lot more than keep us informed on bills," Commissioner Dennis Reid said. "They do a lot of work with different legislators when a bill comes up that is harmful to PUDs, they spend a lot of time working with those people to change their minds."
Auditor Erin Wilson said the PUD recently applied for funding for a project that is expected to cost a little under a million dollars. When they heard there would be no loan forgiveness, they decided to withdraw their application and resubmit the following year.
Not long after, they learned that 84 percent of the nearly million dollar loan would be forgiven. The Department of Health has offered a 24 year, 1.75 percent loan for the portion the PUD would have to pay, approximating $158,000, which the PUD could pay off at any time.
The project, which is in the PUD's current water system plan, will replace 4,000 feet of water main on SR 4 between the water treatment plant in Grays River and Fairview Road and will be completed by contracted labor, and managed by Gray and Osborne.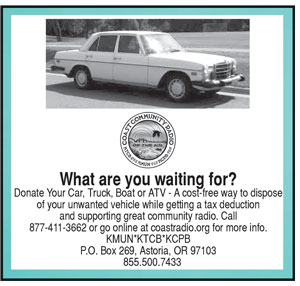 "It's an amazing opportunity with the 84 percent loan forgiveness," Wilson said.
Commissioner Bob Jungers asked if funds were only available for existing systems maintenance and upgrades but not expansions.
"We're not seeing loan forgiveness or grant opportunities for expansion," Wilson said. "Not that we won't try, we'll continue to apply and see what happens."
Commissioners later voted to accept the 2022 Drinking Water State Revolving Fund Funding for the SR 4 water project.
Wilson gave the manager's report, as General Manager Dan Kay was out of the office.
The electric crew has been replacing aging poles and the water department has been focusing on meter and facilities maintenance, as well has helping with traffic control on the pole replacements.
Tree trimming is projected to start on June 5 and last for about 40 days. The PUD decided to hire traffic control internally, which should save them some money, Wilson said.