Onward!
Publisher says goodbye
It is strange when your cancer doctor tells you that your cancer has conquered your body and you have what may be days to live.
That's where I am. It's a slow moving lymphoma, and I've been under treatment since September, 2001. It has now attacked my bone marrow and I'm not producing platelets and hemoglobin. We established a treatment regimen that should keep me going long enough to take care of last minute business and get set up at home to die.
That leaves us with the future of this newspaper. There's been a team working on a potential sale, but I think that plan is done, too. We'll see what develops. We've been working on this for some time, but the treatments have just made it hard to complete connections.
I'm sorry, but I can't tell you what the status of The Eagle will be in six months.
The Eagle has been in my family's hands since 1963. I started working there, a 7th grader with a work permit, cleaning up after each edition. We were using hand set moveable type in those days, the same 1400's Guttenburg technology, and equipment that made lines of lead type and casts of photos and other art work. I swept it up and melted on Saturdays, separating the dross and pouring new pigs for the Linotype.
My parents, Bob and Lois, bought the paper in 1966. I graduated from Wahkiakum High School in 1969 and dropped back on duties at the paper for more lucrative logging work in the Willapa Hills.
In the early 1970's, Bob and Lois dropped the hot-lead technology and adopted pasteup production. One simply printed copy on paper, waxed it to page size grid and delivered it to the printer, The Daily News in those days, and they got it on a press and there was your run for the week. Now everything is digital; we make a pdf of each page and send them to The Astorian whose printers do such wonderful work.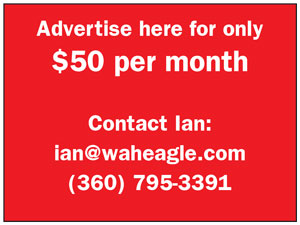 Things changed with the growth of the internet, and most people have seen how this decimated the traditionl news bsiness, I feel the decline in local papers is a horrible blow for society and is part of the rancor riling the nation.
We have, dear readers, thanks to you, carved out a niche trying hard to serve our Wahkiakum County and Naselle populations. We appreciate you so much.
My father died in 2006, and I took over as publisher. I've had so much support from staff, especially production manager Geri Florek. Diana Zimmerman has been such a writer, generating her own story ideas and covering local institutions with passion. Sarah Lawrence and Kathi Howell were forces for marketing for us, and Ian Brandon has gone to work there and his duties are expanding. Ian, Geri and Diana deserve your respect and support.
I shouldn't ignore our correspondents. For years, Kay Chamberlain has cranked out the Skamokawa News, and she puts in a lot of news very faithfully. Karen Bertroch is passionate about coverage of the Westend and Naselle. Todd Wilson has taken on sports photography for us--you can't beat that.
And you, the community, where would we be without you? Thank you for your support, and please be patient as the future unfolds.