Westend residents participate in workshop to address Grays Bay issues
Last Thursday, a crowd of Westend residents filed into Rosburg Hall for the first workshop in a series planned to address changing water levels in the Grays Bay Area, and it's impact on habitats and the people who live there.
According to Jackson Blalock of Sea Grant, it was while working with the Port of Ilwaco in 2020 to find funds to address flooding at the Ilwaco marina, that they noticed that issues of flooding, erosion, sedimentation, and habitat change extended well beyond the port district.
"Those are all issues that are directly affected by sea level rise," Blalock said.
Realizing they could tackle the issue holistically, Sea Grant and the Lower Columbia Estuary Partnership researched and secured a grant through the National Fish and Wildlife Foundation. It was that work that brought them to Rosburg Hall last Thursday, as the affected area not only included Baker Bay in Pacific County, it extended to Grays Bay in Wahkiakum County as well.
The partners have a few goals in mind at these series of workshops, which are being held in Grays Bay and Baker Bay communities. They want to reduce changing water level impacts on people and habitats, by supporting projects that come out of these workshops.
They were there on Thursday to hear specifically how local people are being affected by these issues. At the second workshop, they want to figure out what matters should be prioritized, and by the third workshop they want to begin to take action, either by bringing in appropriate partners to address the issues or to seek funding.
Participants stepped into Rosburg Hall to find several large tables set up with maps. They were invited to sit at the table representative of their community or locale, whether it was Grays River, Deep River, Eden Valley, or so on.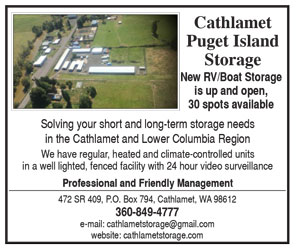 During the evening, they were asked to place marks and sticky notes on the map where they had themselves seen issues crop up over the years and talk about their concerns.
As the evening drew to a close, Blalock shared what they all had gleaned so far.
Residents had several concerns, including maintaining the existing control infrastructure, loss of private land and farming, recreation access and economic development, loss of fish habitat and flooding impacts on elk and spruce swamps, emergency service access on flooding roads, how forestry practices are impacting the land, sediment, balancing human needs and other species needs, Columbia River management and sediment management, upland land use and precipitation, and stream bank erosion.
There were also questions about how people historically managed these issues and what they are doing now? What was working and what wasn't? How do they use that information?
Participants had ideas about who should be involved in the conversation, whether it was the Washington State Department of Transportation, the Washington Department of Fish and Wildlife, the U.S. Army Corps of Engineers, National Oceanic and Atmospheric Administration (NOAA), local homeowners, state and federal representatives, and/or first responders.
"Not to point fingers," Blalock said, but to have constructive conversations, and see where there might be overlap in missions and goals."
Blalock said their team would spend the next few months analyzing the data they received at the workshop in preparation for the next meeting set tentatively for August, where they hope to begin to prioritize issues and connect partners.