Gaining independence in the garden
Heather Odom, community health specialist for Wahkiakum Health and Human Services is hoping to inspire new gardeners after taking on the hobby for the first time herself this year.
"The Wahkiakum Community Garden does a great job producing vegetables to take to the food pantries, but I want that next step," Odom said. "It's wonderful that you are getting food, but here's how you can grow it yourself."
Odom's focus for WHHS is on promoting healthy eating and nutrition in the community. She does a food demonstration every month at Johnson Park for the West End Food Pantry, where they have a commercial kitchen, and she also hopes to do some demonstrations on this side of the county sometime in the future.
Her first plot at the community garden is growing happily. She has cucumbers, carrots, potatoes, bell peppers, tomatoes, spaghetti squash, lettuce, parsley and radishes.
"It's been fun planning this out," Odom said. "It's a big experiment really. I'm really excited. I come out and I'm just amazed every day."
"A novice can come up with some really good vegetables on their own without a ton of effort," she added.
Odom was delighted with the zucchini she's already harvested and is looking forward to August 10, when she will focus on preparing zucchini at her food demo at the commercial kitchen at Johnson Park.
"It's prolific once it gets going," she said. "It's so versatile, though. I'm thinking about doing something along the lines of zucchini bread or something like that, but I also have recipes on how to cook zucchini noodles, and how to sauté. All the things you can do with it."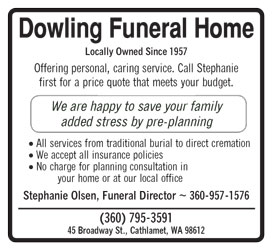 "This whole thing, growing the veggies next grow season, as part of my SNAP Education work plan is to have garden tours," she said. "People can see how you prep the bed, and plant your starts. This is how you maintain them and harvest."
She also wants to introduce the idea of a container garden to people who may not be able to access the community garden or don't have room at home.
Tours are in the works for next spring, but you might stop by the Wahkiakum Community Garden at Erickson Park to take a look. It's lush in there right now, but remember, don't touch. The harvest belongs to the people who have been planting and tending the gardens for themselves, and for local food banks.