After nine year halt, first gun admitted to any WA State museum
OLYMPIA – After more than two years of trying, Hans Schaufus finally surrendered his weapon to the Cowlitz County Historical Museum in Kelso.
His 1904 Remington rifle is historic for more than just its age. It also is believed to be the first firearm donated to a museum in Washington state in nearly a decade.
Legislation sponsored by Sen. Jeff Wilson this year fixed a Catch-22 in state law that made it impossible for museums and historical societies to accept donations of firearms.
Washington's strict firearms-transfer law, approved by voters in 2014, requires a criminal background check for anyone acquiring a firearm. Unfortunately for the state's museums and historical societies, in order to get a criminal background check in Washington state, one must first be a human being.
So for the last nine years, Washington's museums haven't been able to accept loans or donations of antique or historic firearms -- much less purchase them.
"The folks who wrote Initiative 594 gave an exemption to theatrical productions, but they forgot about museums," Wilson said.
Washington's unintended ban on firearms acquisitions by organizations has been a major problem for museums across the state, said Joseph Govednik, director of the Cowlitz County Historical Museum and past president of the Washington Museum Association. He said many museums maintain firearms collections, and displays of rifles and pistols are integral to exhibits about westward settlement, Washington's contribution to war efforts, and development of industrial arts.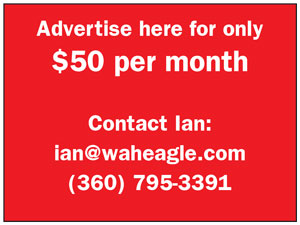 When Schaufus offered his rifle, Govednik couldn't take it unless state law was changed. Govednik got in touch with Sen. Wilson, who passed SB 5436 this year after two years of effort.
"As contentious as firearms are in national politics, the fact it passed unanimously was amazing," Govednik said.
Wilson said he was glad the matter did not get caught up in the Legislature's major debates last session about gun control.
"On this point Republicans and Democrats were able to agree," Wilson said. "We all think guns belong in museums."