Lunch program teams with Wahkiakum on the Move
To The Eagle:
The Free Summer Lunch Program is up and running! Our first week we served more than 90 meals. In addition to providing healthy food, the program has WSU Extension & 4-H leading Cooking Matters Food Demonstrations on Mondays. Those attending this week learned about Drinking Smart and left with their own personal water bottle and encouragement to refill and reuse for a cleaner environment.
On Thursdays every kid can pick out a free book. We are encouraging youth to take their lunch to The Hope Center and join our local Senior Citizens for Eat, Play, Read. They will have the opportunity to play outdoor games like Lawn Darts and Bocce Ball, indoor board games, or read with a Senior. This is an opportunity for our newest generation to meet our wisest generation.
Our partnership with Wahkiakum on the Move kicks off this week. Lunches can be delivered to 26 stops around Cathlamet, the Island and to the Skamokawa Fairgrounds. Please contact Ginger Hake at 360-795-6630 Ext 236 or 360-751-0497. She will ask for your name, a contact phone number, the number of lunches, ages of the kids and which stop you will be meeting the bus. We ask for ages to help identify age appropriate books for delivery on Thursdays.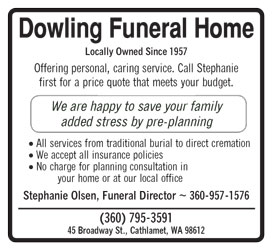 Bus stop and time:
Erickson Park 11:14, West Little Island 12:17, Indian Village 11:17, Heritage Church 12:25, Chevron 11:25, Svenson Park 12:35, Boege & Clover 11:27, West Sunny Sands Stop Sign 12:38, Cochran & Delores 11:29, East Sunny Sands Park 12:40, M St. 11:32, East Sunny Sands Stop Sign 12:42, 7th Day Adventist 11:40, State Rd. 12:44, Gragg's 11:50, Our Saviours Lutheran Church 12:49, Hope Center (320 3rd) 11:53, Fire Dept. 12:53, St. Catherine's Church 11:55, East Little Island Rd. 12:55, Hotel 11:57, Greenwood Cemetery 1:05, 2nd & Una 12:09, Cedar Lane 1:07, Marina 12:11, Skamokawa Fairgrounds 11:57.
This program is completely funded by donations and operated by volunteers. Our goal is to help build healthy kids. Every kid is welcome to join us for a free lunch, Monday – Thursdays at JA Wendt from noon – 12:30. If you can't join us at the school, but can meet the bus at one of the 26 stops, we can get a lunch to you.
Suzanne Holmes
Puget Island