Town council, updates CAO, sees moratorium end
Members of the Cathlamet town council lifted a building moratorium, took steps to update the Critical Area Ordinace and handled other business when they met Monday.
Clerk/Treasurer Kerrie McNally explained the reason for the update--state agencies are demanding current, updated Critical Area Ordinances (CAO) as part of the requirements for funding grant awards.
Twice this year the town has lost grant funding awards for street and water main projects because the town's CAO is out of date.
To satisfy the state departments of Ecology and Commerce, the updated ordinance incorporated Chapter 6 of the town's recently adopted Shoreline Management Program.
Adoption of new or amended ordinances requires approval in at least two meetings; the council gave the first approval, with town attorney, Fred Johnson authorized to make an editing change.
At the council's September meeting, the council agreed to lift a moratorium on new building permits for the Phase 2 portion of the Columbia Ridge Estates development, pending completion of conditions.
Town officials reported the conditions had been met-fire safety signing had been installed, and minutes of home owners association had been submitted to town hall.
Attorney Johnson commented that the council needs to take no further action because its previous motion said the moratorium would be lifted when the condition had been satisfied.
Public Works Director Duncan Cruickshank asked who would be responsible for patrolling the neighborhood to make sure parking regulations were followed.
The streets are private roads, Johnson replied, so the sheriff's department wouldn't be patrolling; enforcement would be up to the homeowners and, if roads are blocked, the town fire marshal could take action to clear a path for emergency vehicles.
In other business, they approved an expenditure up to $20,000 to work with a community organization consultant on a strategic planning process that would identify goals for town government through 2020.
Council Member Sue Cameron recommended the council take the steps to set parameters for its work.
"Without a plan, we don't know where we're going," she said.
"I really like this," said Council Member Laurel Waller. She asked if the process would include significant public input, and Cameron said it would.
"It (the cost) is a little more than I thought it would be," said Mayor Dale Jacobson. "We really haven't had a positive direction on where we're going."
The council also gave tentative approval to a service agreement for the town's computer systems. MorePower Technology Group was the only responder to a request for proposals for service. The firm, which also provides technical support for Wahkiakum County government, would provide the technical support for $2182 per month, including sales tax.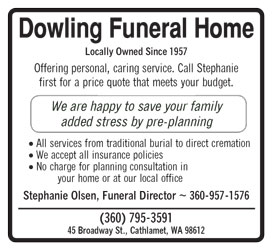 McNally said the terms of service were better than under a previous contract and recommended approval.
The council voted to approve the contract, subject to review by Johnson.
"This is MorePower's contract," he commented.