PCA thanks all the volunteers
To The Eagle:
Volunteers contribute knowledge, experience, energy, and passion every day in our community. Some are highly visible, while others quietly work behind the scenes. Most don't seek recognition because they find satisfaction in knowing their efforts do indeed make a difference. On Saturday, October 27th more than 30 volunteers turned out for Tidy Up the Town and took on five Fall clean-up projects for National Make A Difference Day.
The Pioneer Community Association wants to extend a special thanks to Scott Anderson with Anderson Shake & Shingle for delivering and donating cedar shavings that were used to cover flower beds around both the Cathlamet Pioneer Center and the Cathlamet Library/Community Center. We also want to acknowledge the hardworking crew from The Freedom Market. This new business to our community has a great desire to give back and we appreciate their contribution.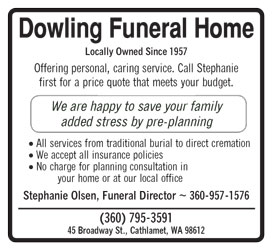 In addition to the work done around the Cathlamet Pioneer Center and Library/Community Center, we had our Main Street miracle workers weeding and freshening up the flower pots. One gentleman observing the Wahkiakum Blooms Crew in action donated $15 just because he liked the pots! Our County Courthouse grounds were tackled by a team of true public servants; most of whom are veteran Tidy Up the Town volunteers. A small, but mighty, crew from St. James Mentors Program tackled the Waterfront Trail and Strong Park and worked on the grounds of the Wahkiakum Historical Museum where they joined museum volunteers who were cleaning gutters and preparing the building for winter.
Currently, 63 million Americans volunteer about 8 billion hours of their time and talent to improve people's lives and the natural world. With the new value of volunteer time ($24.69/hr.) these Americans are contributing approximately $197.5 billion to our nation. Using that number, our Tidy Up the Town Contribution to Cathlamet would be calculated at more than $2,500. Plan on joining us October 26, 2019 for the next National Make A Difference Day.
The good news is that you don't have to wait that long to join the next Tidy Up the Town effort. The Pioneer Community Association will again host the Spring-cleaning version on Saturday, April 20 in recognition of Earth Day 2019. We hope you will join us.
Suzanne Holmes
Pioneer Community Association President