Cathlamet council adopts ambitious planning process
Planning was a major concern for members of the Cathlamet town council during two meetings Monday.
In a special meeting held Monday afternoon, councilors met with John Morgan to plan the process for developing a strategic plan to guide the council's decision making process.
Later, in their regular evening meeting, the council approved a contract to update the town's comprehensive plan by the end of the year, and they met with Department of Ecology Regional Planner Michelle McConnell to go over the final steps to finish the first update of the town's 45-year old shoreline management program.
In other business, the council voted to provide $5,000 to the Wahkiakum County Historical Society to help with expenses while the society hires a contractor to repair a leaking roof, and the council made an inititial decision for the surface of the park planned for the Butler Street parking lot.
The council opened the day's work in the meeting with consultant John Morgan, discussing how they wanted to proceed with the strategic planning process.
They agreed to meet July 10 for dinner and frank discussions with each other to talk about their relationships and issues that are important to each other.
In August, they'll hold a day long workshop to which they'll invite officials from other entities such as Wahkiakum PUD, Wahkiakum County, and Port District 1.
From those two meetings, they'll develop a proposed strategy which they'll share with the public and use input from that meeting to generate their final strategy that will guide their decision making process.
The council intends to finish the process by the end of this year, and they're inviting all candidates for council positions on the fall election ballot to participate in the process from start to finish.
The strategic planning process will coincide with an update of the town's comprehensive plan, also to be completed by the end of 2019. Council Member Sue Cameron said the update will be necessary to qualify for future federal funding programs. Planners from the Cowlitz/Wahkiakum Council of Governments will facilitate the process.
Also nearing completion is an update of the town's shoreline master program. Partnering with Wahkiakum County, the council started the update in 2014. In 2014, the council split away and submitted a proposed update to the Washington Department of Ecology.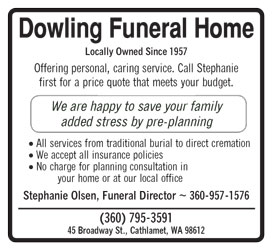 On Monday, Michelle McConnell, Ecology's regional planner, presented Ecology's response which included some required changes and some suggested changes.
At this point, McConnell said, the council may agree to the proposed changes, or they may submit an alternative proposal for further review. The council took no action but has 30 days to respond.