Port 1 offers to buy Johnson House
Ferry shutting down for dredging
Wahkiakum County Commissioners on Tuesday tentatively accepted an offer from Port District 1 to purchase the county's Johnson House.
Commissioners have wanted to sell the house on Division Street but maintain ownership of the land on which it sits for possible future county use.
Port Manager Jackie Lea presented the offer to the county commission, suggesting a 10-year lease, after which the port would remove the house and pay $5,000 for it.
Commissioner Gene Strong suggested the county would like a provision that would allow them access to the property earlier than the 10 year term; and Lea said the port commission would be amenable to that.
"Put together some documents and we'll look at it," said commission Chair Dan Cothren.
In other business, commissioners approved a shut down of the Puget Island ferry next Tuesday, 7:30 a.m. to 6 p.m. Clatsop County officials requested the closure to accommodate some dredging, for the ferry had grounded a few times at low water during the summer.
Commissioners also approved amendments to the county's salary schedule. The pay rates will increase 21 percent over the next 12 years instead of 17.5 percent under the current schedule. The board also approved 3 percent increases for non-union employees, and adding step and longevity increases. The increases cover employees except commissioners and those such as judges and the prosecuting attorney whose salaries are set by the state salary commission.
The board approved an interlocal agreement with the Town of Cathlamet to continue $50,000 in county funding for the town swimming pool.
Commissioners heard a presentation from Mary Fee, executive secretary of the Washington State Noxious Weed Commission.
The commission focuses on education and enabling county boards to operate programs to control noxious and invasive weeds.
The board doesn't have much funding to aid county programs, she said. Other state agencies do have funding; for example, the state Department of Ecology has funding to assist in eradication of milfoil, which has become widespread in county waters.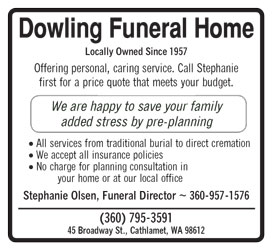 Under state law, it's the land owner's responsibility to control noxious weeds, she said. Local weed boards can alert landowners to infestations. Landowners can eradicate the weeds themselves or find another applicator, such as the county weed program, to do the work.