PUD commission hears storm reports, possible Westend expansion
By Diana Zimmerman
Wahkiakum County PUD Board of Commissioners heard about recent activity at the utility, approved the budget for 2021, and spoke with George Caan, director of the Washington PUD Association about succession planning. General Manager Dave Tramblie has not announced his impending retirement, but the board is taking a proactive approach.
Tramblie said the PUD was able to inspect some sections of the electrical system with their infrared camera last week, making it easier to find and make minor repairs.
"That tool has worked out really well for us," Tramblie said.
Tramblie also reported that the Skamokawa project was going well, but so far they were unable to get a good sample from the newly installed section of pipe on Steamboat Slough. Additional flushing was planned for Tuesday.
"I hope that solves the issues so we can get this project wrapped up," Tramblie said.
Commissioner Bob Jungers asked if the reservoir was adequate for flushing, and Tramblie replied in the affirmative.
"Chlorine will be added to the system on Thursday," Tramblie added.
A power outage on November 14 was caused when a large limb fell from a fir tree at the intersection of Clover Street and Boege Road.
"I would love to get that tree out of there, but it's too big for us; we are not professional tree removers," Tramblie said.
He added that they had planned to hire a tree trimming contractor, but it had been put on hold because of the pandemic.
Commissioner Dennis Reid reported that people on Facebook were pleased with the PUD's response to the recent outage.
Tramblie has been considering how the PUD might bring water to the far reaches of western Wahkiakum since Reid suggested the utility contemplate a plan for the system.
At this time, Tramblie believes Phase 1 might be to connect the 900 feet from where the PUD's five inch HDPE water main ends to the highway, which he estimated might cost the PUD about $50,000 if they do it in house. The next section, or Phase 2, would be 1,100 feet from the highway up to the top of the hill, where it would meet four inch HDPE that was installed a few years ago.
There is already pipe on Salme Road, he said, so the next two connections would be from Salme Road to Wanaimo Road, and then from Wanaimo Road down the highway to West Deep River.
Tramblie thought at one point that the PUD might need to install a lift station to bring water up the hill, but after speaking to an engineer, he no longer believes it will be necessary. The PUD would still need to get permits from Pacific County to bore under a section of the roadway.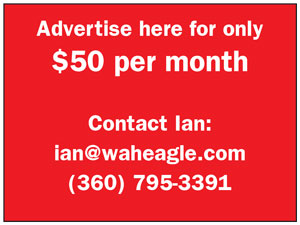 "You're in the hundreds of thousands of dollars to get it completed in house," Tramblie said of the potential project, adding that it would likely cost three times as much if they hired a contractor.
The PUD will make a decision about whether or not to go forward with a Public Works Board broadband award at the next meeting. The PWB offered the PUD a grant of $809,084, with a loan of $4,108,298 to complete the first phase of the broadband project, according the PWB website.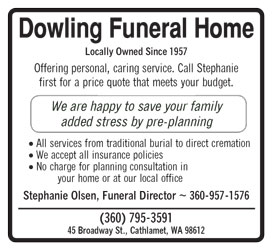 Commissioners approved a resolution adopting the 2021 budget, which includes $5,384,300 in expenditures based on revenues of $5,093,160 and $291,140 taken from reserves. The budget allows for capital investments of $200,000 for a small bucket truck, $180,000 for pole testing, as well as money for building security and a new recloser for the Wahkiakum substation.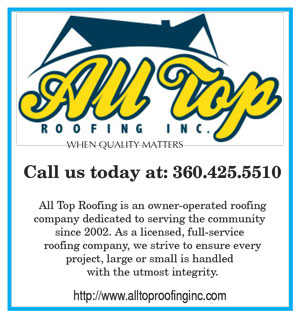 Reid remarked that some PUDs had received CARES Act Funds from their counties to help ratepayers who were struggling to pay their bills, and asked if Wahkiakum PUD had made any appeals to Wahkiakum County for funds to help ratepayers.
"Seems to me that's what the CARES Act was for, was to help the community," Reid said.
Auditor Erin Wilson said she had contacted one of the county commissioners but had not heard back. She said she would try again.
After commissioners gave reports, Caan shared his expertise in succession planning, answered questions, and gave the board some things to consider.