Meet Our Seniors: Navarre Stewart
Navarre Stewart knows how to make the most of his spare time.
He's creative, curious, and busy. If he isn't building models, which is usually, he's taking on some kind of creative writing project, which includes a novel he is working on right now.
"The stories I want to tell are like those Star Wars space operas, but with more political grounding," Navarre said.
It's clear he's learning a lot in Don Cox's American Government/Global Issues class, and is asking really important questions, which he is working out as he grapples with his writing.
Born in the Seaside/Monterey Bay area in California, and raised in Vancouver, he moved to Cathlamet about eight years ago.
"I like it here," he said.
Still, Navarre hopes to return to California when he graduates. In the short term, he plans to work in the hotel industry, starting as a bellhop and making his way up the ladder. But that's to pay the bills while he goes after what he really wants: a career as a voice actor, or possibly some other form of acting.
Don Cox and Joel Stetzer are the best teachers at Wahkiakum High School, if you ask Navarre.
"In my opinion, it's because they are down to earth and they challenge us and push us forward," he said. "They don't take any excuse, but not in a bad or a mean way. I appreciate what they do."
He's really enjoying his statistics class this year, but largely because Mr. Stetzer is teaching it.
"We are a really rowdy class," Navarre laughed. "He really helps us out and puts up with us. He gives us intellectual freedom to do what we want when it comes to statistics, so we can approach any assignment or project any way we want, no matter how weird or crazy or out there. It makes what might be really boring math, interesting."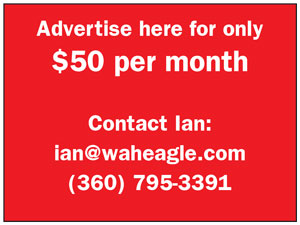 Navarre played football for the Mules for two years, and while he enjoyed the sport and time with his teammates, his interests took him in other directions. He was in a few plays when the Missoula Children's Theater came to town, taking on the role of The King of Hearts in Alice in Wonderland and the Cowardly Lion in The Wizard of Oz.
Navarre is the son of Jessica Stewart and Takashi Smith.