Chicken dinner in Rosburg on Sunday
Skamokawa News
NOT BAD--It looks like this is going to be a pretty decent week for weather, with mostly sunny and mild temperatures, so I hope you've been enjoying it as it appears the rains will return in a few days, so we have to enjoy these nice days while we have them. At the moment, it may not be super sunny but at least it's not pouring down rain like it was at times this past weekend, so we'll take all the dry spells we can get, cloudy or not!
SPECIAL DAYS--Those celebrating birthdays from May 13-19 are Christeena Bassi, Bryce McClain, Tayler Stornetta, Courtney Helms, Shelby Hoiland, Mike Iverson, Bobbi Peek, Erica Nepsund, Stacey Wegdahl, Shelly Hedges, Jamie Nelson, Kaelee Paulsen, Hannah Helms, Mark Phillips, Nikki Hoven, J.T. Luthi, Michelle Thomas Fladebo, Makayla Holland, Julie McKinley, Lexi Grasseth, Kamryn Watkins, Mike Phelps, Sheri Clark Davis, James Pedersen, Rian Blain, Rachael Blain Reynolds and Brandon Chamberlain. Belated birthday wishes to Nicole Coleman who celebrated her special day this past Monday.
Those celebrating anniversaries this week are Mr. and Mrs Shawn Deal, Jon and Brenda Peterson and Rusty and Maiya Keist. May you all have terrific celebrations on your special days!
CHICKEN DINNER--The Rosburg Community Club will hold their annual Chicken Dinner at the Rosburg Hall, and that's coming up this Sunday, May 16 from Noon to 2 p.m. The cost is $10 for adults, $7 for 4 to 12 year olds and under four are free. We hope you'll go down and enjoy this wonderful dinner that comes with salads and dessert and by treating yourself to this great dinner, you'll also be helping to support this club and the hall!
GOOD TURN OUT--I thought I was only a few minutes late from the opening of the Cathlamet Woman's Club fundraiser last week, where they were selling pies and cupcakes, but I have to tell you, the pies evidently flew out the doors of the Tsuga Gallery the minute it opened. However, I was still lucky enough to snag a favorite kind of pie for my hubby, so to whoever made the blueberry pie, thanks, it was delicious!
DFS/WRONG NUMBER--I mentioned contacting Diane Tischer last week if you'd like to call her about the upcoming Wahkiakum Dollars for Scholars online auction, but unfortunately, I listed a phone number that is no longer in service; sorry about that! Anyway, if you'd like to talk to her about signing up to be a donor or any other information about the event, you can call her at: 360-562-6467. You can also contact Doug Martin at 360-751-4497. If you'd like to make a cash (check/money order) donation, you can mail it directly to Diane at 223 N. Welcome Slough Road, Cathlamet, WA 98612 or to Wahkiakum Dollars for Scholars address, which is P.O. Box 498 in Cathlamet. They would like you to verify that you will be a sponsor by May 24.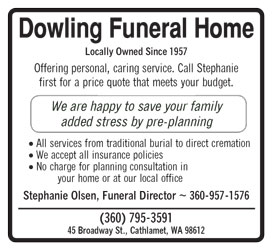 Remember, all proceeds go toward scholarships for the Wahkiakum High School graduates, so we hope you'll contribute to this great fundraising event, as well as take part in the auction. This online auction will run May 27 beginning at Noon until June 13 at 8 p.m. So whether you're donating an item for the auction or sending in a cash donation, it will all be put to very good use and be appreciated by all those graduates who receive these scholarships!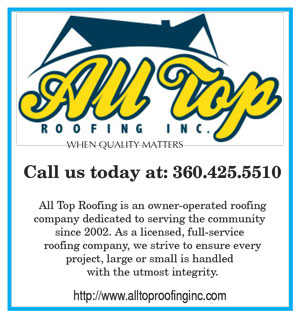 EVERY TUESDAY--Don't forget to come down to the fairgrounds here in Skamokawa every Tuesday from 4 to 7 to check out their Farmer's Market, where they will have plants and other like items for sale, so here's hoping you find something you like down here this coming Tuesday, May 18.
CLASS OF 1967--This is to inform all of you who were ever in the Wahkiakum Class of 1967, from first grade on up, that they are planning to gather at the home of Dale Jacobson July 17 at 1:30 p.m., which is after the Bald Eagle Day Parade that day. This is an outside venue and there will be plenty of space and fresh air. For more information, contact Keith and Karen Lawrence at knklawrence@comcast.net or you can give me a call. Please share with all those who you know that may not get this paper or are no longer living in town but might want to be included.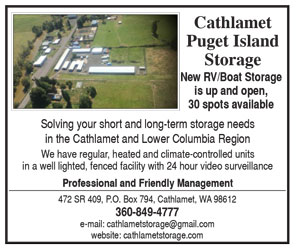 GREAT MOTHER'S DAY--From all the posts I saw on Facebook, I'd say that most of the Moms around here had a wonderful Mother's Day. I had some goodies from my hubby, in the way of plants and gifts and then my three kids (Lisa, Pete & Brian) showed up bearing gifts, flowers and tons of food, including desserts, so I think I gained 10 pounds in one afternoon! I have to say, I'm a bit disappointed that they didn't let me win at Scrabble, but hey, the eldest son is really a spelling champ these days, and beings Pete was actually born on Mother's Day, well, I guess I could forgive him for trouncing me this time! With no cooking or clean up needed to be done by me, and lots of goodies to enjoy, it was definitely a nice day for me at my house this past Sunday.
Like many, our special days could only have been made better if our own Moms were still here on earth to celebrate this special day, but I know they were smiling down on us and happy that we were surrounded by those who made our day so special.
FLYING BY--We are already in the middle of the fifth month of this year, and at the rate it's flying by, it'll be over in another blink of an eye; yikes! We hope you're able to put the brakes on for just a bit in order to come down to the Car Show at the fairgrounds on June 5, and get ready for the Bald Eagle Day Festivities in mid-July, and get your projects and entries done for the Wahkiakum County Fair in mid-August. At all these bigger events, helpers are needed so if you're new to the area, here's a great way to meet your new neighbors and help out your new community. Contact the Chamber of Commerce for more information about pitching in.
DADS' DAY--You've got five weeks to think about what you're going to get that special man, called your Dad, for Father's Day, so I hope you've got some great ideas to help him celebrate that special day. If you don't have a Dad to celebrate with, then I'm sure that the special guy in your life will be more than happy to be on the receiving end of a special gift or dinner.
OUT OF THE PAST--This week back in 1946, the week began cold and windy, with the next day becoming not only cold but very wet.Thankfully the weather turned much warmer and nicer for the rest of the week. Those nice days meant there were many evening walks for Grandma Elsie. On one of those nice evenings, the Business and Professional Women's Club held their chicken dinner as well as a meeting. New officers were elected and Grandma Elsie gave up her two year stint as the Treasurer, which was now being taken over by Alice Snyder. Other officials were Donna Hatton as President; Mabel Turner as VP; Creta Lee as Secretary and Lorraine Springer as corresponding secretary. On May 17, Gene Healy's WHS class day and program was held in the afternoon, so the Everests attended that as they enjoyed seeing their grandson on stage that day. Later on, the Sons of Norway was holding a big program and dance and Grandma Elsie attended with Mrs. Hansen, Mrs. Foster and Mrs. Risk, and they all had a very good time. On Saturday evening, it was time to go to the movies as "Bells of St. Mary's" was showing and it was thought to be a very good show. On Sunday, it was off to Baccalaureate and then to visit Mrs. Below for a while later that evening. All this according to my Grandma Elsie Everest's diary.