County, Port 1 study County Line Park needs
Rick Nelson
What are the highest priority improvements at County Line Park?
Local officials discussed them Tuesday at the meeting of the board of county commissioners, focusing on deteriorating walkways, water system improvements, and, of course, how to pay for them.
No decisions were made; county commissioners asked Port 1 Maintenance Manager Todd Souvenir to consult with the Port District 1 board of commissioners and return for further discussion in August.
The state Department of Natural Resources owns the County Line Park site and leases it to Wahkiakum County, which in turn, contracts with Port 1 for maintenance and operation.
Souvenir reported that asphalt walkways in the park have deteriorated so badly that they're not safe or accessible for persons who are elderly or disabled. They have bumps and cracks from settling and from tree limbs. Also, soil has eroded away from a metal staircase leading from the parking area to the beach, making it unsafe to use.
An estimated cost of repair is approximately $35,000; the Wahkiakum County Marine Resources Committee (MRC) has approved a grant of $12,743 to help cover costs, and Souvenir asked how the balance could be covered so that improvements could be made next year.
Three walkways lead to a viewing deck, he added, and the MRC grant would cover improvements to one of them.
The discussion pivoted to other needs when Commissioner Dan Cothren asked about the status of the park's water system.
The water system, Souvenir replied, produces water laden with iron. It serves restrooms, the park host trailer, and two spigots. Improvements recommended by the state Department of Health would cost $40,000 or more, he said.
Cothren commented that a major reason for the county to become involved with the park was to provide a restroom that could be used by travelers on SR 4 as well as park patrons.
"I'm trying to look at this for the benefit of Wahkiakum County residents," he said.
County funding would come from the county's Capital Improvement Fund, which has a prioritized list of needs and projects for county facilities. Cothren pointed out that the walkway work wasn't on the list, and Public Works Director Chuck Beyer added that the water system improvement project is on the list.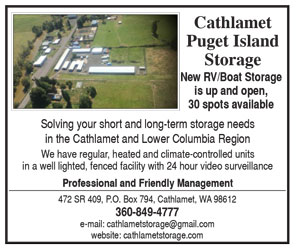 "We'd look at this (walkways) as an issue that has to get done," Cothren said. He followed by asking Souvenir to check with the port commission to see what the port district could contribute.
Officials also discussed restroom access. Because of pandemic response, access is limited to paying park patrons; the port has provide portable toilets for day use visitors.
"From the county's standpoint, we'd like to get access restored," Cothren said.
Souvenir said he'd raise the issue with port commissioners, adding that they haven't had any complaints from the public about access.
Rick Nelson
In other business at Tuesday's meeting Craig Brown, a volunteer at the Community Center in Cathlamet, urged commissioners to work with the Town of Cathlamet to establish a permanent managerial position for the center. The county provides staffing for the town-owned center, but there is no funding or budget for a permanent manager.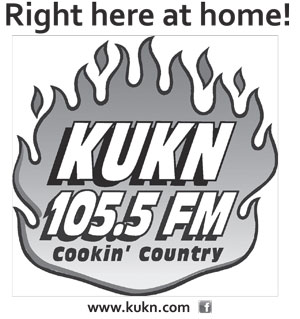 "We've got to stop kicking the can down the road and using a system that doesn't work," Brown said.
Commission Chair Gene Strong replied that that is the board's intention.
"We'll take this under advisement and get back to you," he said.