Downriver Dispatches
News of Western Wahkiakum County and Naselle
Karen Bertroch
Good morning, readers! May the Saints of Rain bless us in the coming days. My yard is brown and my flowers are thirsty. Thanks to all the great gardeners in the area. As I drive around I appreciate the beautiful yards and gardens.
Wolverines: Reports from several sources support the increased sightings of wolverines in the area. These small wild animals are usually up high in the Cascade range, but recently one was seen on the peninsula beach. Two of them have been seen in upper Salmon Creek and in Sisson Creek. These animals, while not very big, can be vicious and cause injury. If you see this species, please share your observation using the WDFW wildlife reporting tool, or email photos or information at wildlife.data@dfw.wa.gov. Jeff Lewis from WDFW, reports that small wildlife are moving into lower altitudes due to climate change so that includes cougars, too. He also asks that any wolverines sighted not be shot and avoid hitting them on the roads. They are scavengers and can be dangerous if they feel trapped.
Timberland Library Book Sale: The Friends of the Naselle Timberland Library will host a used book sale on August 27 and 28 at the Appelo Archives Center. The sale will be open from 10 a.m. - 4 p.m. on both days. Prices are $1 for hardback books and 50 cents for paperbacks, half-price on everything after 1 p.m.
Photo of the Week: This week's photo shows Diana Berry, LMP and LMT, licensed massage practitioner and massage therapist. She has set up a restful therapy center in Rosburg. She is located at 4042 W. SR 4. I visited with her and a client for a few minutes last week while she was massaging painful areas for the client and giving me information about herself. She has been licensed for 10 years and has a strong history with older clients with dementia or Alzheimer's, as well as children and athletes. She told me, "Laying hands on people is an art and a science. The human body continues to intrigue me. I want people to give themselves some grace. I enjoy helping people. Whatever massage a person is looking for, I can do it."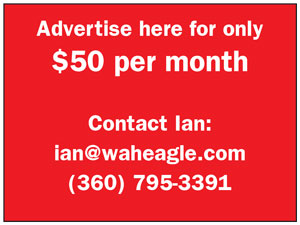 She wants to establish a satellite massage office in Skamokawa or Cathlamet. She wants to have as many local clients as possible from both ends of the county. She values a therapeutic environment most of all. If you know of a space that might serve as a second office, or to make an appointment with her, you can contact her at dianaberry.massage@gmail.com or call her cell at (360) 609-8260. Diane's therapy business is an important addition to our area.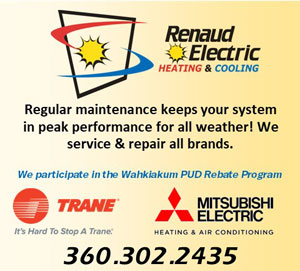 From Krist Novoselic, president of Grays River Grange #124: After an unprecedented year of lockdown, Grays River Grange is excited about participating in the 2021 Wahkiakum County Fair. This year's theme is "Hats Off to the Fair," and this Grange's display booth will be "Hats Off to the Grange." However, the sentiment is really about honoring civic participation in general with the various groups and individuals that embody the idea of social capital. Robert Putnam is a social scientist that researched seminal studies of civic engagement in the United States. In 1995, he stated, "By 'social capital', I mean features of social life - networks, norms, and trust-that enable participants to act together more effectively to pursue shared objectives. (Whether or not their shared goals are praiseworthy is, of course, entirely another matter.) I use the term 'civic engagement' to refer to people's connections with the life of their communities, not only with politics."
Grays River Grange was founded in 1902. At that time, our area was really on the frontier of the United States with its 12-year old State of Washington. The Grange Hall was built to accommodate people with shared objectives, which included spearheading infrastructure projects and social events - such as the first Wahkiakum County Fair.
The Grays River Grange fair booth will feature photographs from over the years of various Grange events. You will see historic images of the civic-minded people who built community in the spirit of common good. Grays River Grange volunteers are working into the future with this spirit. We take our hats off to the people who gave before us, to various groups and individuals who volunteer time, and those who work in the field of social service.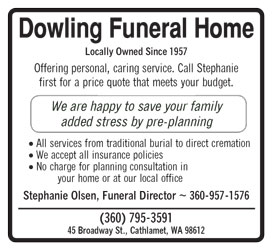 From Bob Pyle re: Grange's Little Library: Our Little Library on the front porch is really getting used now and the book selection keeps renewing, so folks should check back, including children and young readers. Books in the Little Library are free and hopefully, readers will donate used books there.
Regular Monthly Gatherings: The Grays River Grange meets the second and fourth Tuesdays at the Grange Hall at 6:30 p.m. The Senior Lunch Club gathers on the first and third Wednesdays at Rosburg Hall at noon. Volunteers cook the first Wednesday and the third Wednesday is a potluck. All seniors are invited and younger guests are welcome. Senior Lunch Club Potluck will be on August 18 at noon. CAP Senior Lunch Boxes are available on Thursdays through the month of August at noon at Rosburg Hall. Call Diane Hollenbeck to order yours at (360) 762-3111.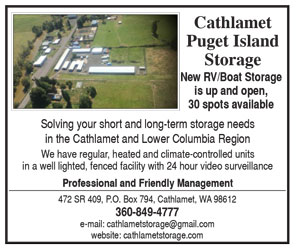 Calendar: Naselle/Grays River School starts Thursday, September 2 before Labor Day weekend and resumes Tuesday after Labor Day. Next school board meeting will be August 17 at 6:30 p.m.
Annual Loggers Reunion will be held on August 21 at the Appelo Archives Center.
Wahkiakum County Fair will be held on August 19, 20 and 21 at the fairgrounds in Skamokawa.
Carol Penttila's Celebration of Life will be on August 28 at 1 p.m. at the Naselle Community Center.
Rosburg Store is hiring: The Rosburg Store is looking for two part-time positions for kitchen cooking and front counter ringing up customers. Paid training. Contact Edward Miller at (253) 225-1055.
Karen Bertroch
Word of the Week: Vaccinations