State Tournaments:
VB--Comets are 5th, Mules out in 2; 1B FB--Comets moving on
Class 1B Volleyball
The Naselle Lady Comets placed sixth in the State Class 1B Volleyball Tournament. In the first round, Naselle topped Pomeroy 3-0 by scores of 25-20, 25-16 and 25-12. That pitted them against eventual champion Oakesdale and they lost a close match 3-1 by scores of 16-25, 26-24, 27-29, 15-25. The loss dropped them into a loser out match with Neah Bay, and the Lady Comets prevailed 3-2, winning 25-17, 15-25, 17-25, 25-17, 15-11. The win moved them into a match with Mary Walker for the fifth and sixth place medals, and Naselle won another tight match, 3-2, by scores of 25-20, 21-25, 20-25, 25-21, 15-11. Final placings were 1. Oakesdale, 2. Mossyrock, 3. St. John Endicott-LaCrosse, 4. Odessa, 5. Naselle, 6. Mary Walker, 7. Pomeroy, and 8. Shoreline Christian.
Team members were seniors, Peyton Dalton, Echo Cenci, Morgan Reitz and Mia Watson; juniors, Lauren Katyryniuk, Brynn Tarabochia, Isabella Colombo, Haley Eastham, Kaylin Shrives, Delaney Kragerud and Amera Larson, and sophomores Nicole Steenerson, Gladys Wilson and Kayli Wirkkala. Rebekah Wirkkala is head coach, and assistants are Kayti Updike and Hanna Higginbotham.
Class 2B Volleyball
The Wahkiakum Lady Mules entered the Class 2B State Volleyball Tournament as the sixth place seed from the Southwest District and faced tough competition from the start. In the opening round, the Mules lost 3-0 to Colfax, 15-25, 17-25 and 17-25. In a loser out match, they faced Lind-Republic/Sprague and lost 3-1, 15-25, 25-21, 15-25, 18-25. Final placings were 1. LaConner, 2. Walla Walla Valley Academy, 3. Manson, 4. Raymond, 5. Colfax, 6. Goldendale, 7. Liberty (Spangle) and 8. Adna.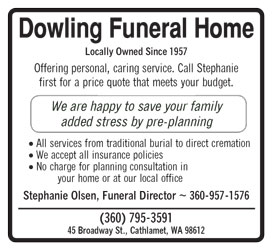 Team members were seniors, Emmi Niemela, Courtney Carlson and Megan Leitz; juniors Miya Kerstetter, Alyssa Montgomery, Breyonna Montgomery, Ava Thomas, Kamryn Watkins and Reigha Niemeyer, and sophomores Amirah Abdul-Karlem and Lily Hale, and freshman Bailey McKinley. Kayli Hurley is head coach, and Tina Merz is assistant coach.
Class 1B Football
The Naselle Comets entered the state Class 1B 8-man football playoffs ranked number three in state. They hosted Waterville/Mansfield on Saturday and flew to a 50-22 victory. Next Saturday, they'll cross the state to play top ranked Pomeroy in a 1 p.m. game. The winner advances to the state semifinals on Nov. 27; the loser starts basketball practice.