Skamokawa News: Last weekend for Redmen Hall event
NIPPY--We woke up Sunday morning to temperatures below freezing so it was definitely a reminder that one needs an extra blanket on their bed and to put on some warmer apparel when they go outside! The rest of the week is looking mighty wet, so we can't forget our rubber boots, umbrellas and rain coats either! I just hope we don't have more slides or flooding at this busy time of year. While all this gray, wet and ugly weather persists, please be sure to turn on those headlights, as they may not help you see, but it sure helps others see you!
IN THE MOUNTAINS--Looks like snow is coming to the mountains in great abundance, so if you're into that sort of thing, you'll be heading up to enjoy some early skiing I imagine. If you're new to the area and want to visit those areas, please go well prepared and let someone know where you'll be headed as some of those fun side trips wind up taking a terrifying turn when a vehicle gets stuck in the snow or your rig breaks down, so enjoy your time out and about but be wise and you'll stay alive.
NOT GOOD--Speaking of slides, we want to send our heartiest get well wishes to Sheryl Irving McMahon as she wound up being the victim of falling rocks on Ocean Beach Highway recently. Not only did her car take a real beating, it was totalled, but her elbow got busted up, so we know that's no fun. We hope that's her last encounter with the "Rolling Stones!"
SPECIAL DAYS--Those celebrating birthdays from Dec. 9-15 are Carol McClain, Jai Snow, Cristina Moonen, Tom Bosch, Zachary Stewart, Alexandra Wright, Sandy Bergseng, Todd Souvenir, Julie Doumit, Derek West, Julie Burdick, Claire Meyers, Nora Sorensen, Eileen Tietje, Tyler Johnson, Kayrene Snyder, Breanna Smith, Jim Webb, Patrice Holtz and one year old Lucy Owen.
Happy Anniversary wishes go out to Mike and Stacey Wegdahl and Mr. and Mrs. Zach Bonds. Wishing you all a very happy day on your special days!
NEIGHBORHOOD WATCH--All Skamokawa residents are invited to attend a Neighborhood Watch meeting at the Skamokawa Grange on Dec. 15 at 5:30 p.m. With lots of new folks in the area who may not know about this program, it's time to spread the word and band together and help put a stop to an increase of criminal activity in our area, so we hope you'll come out to the Grange next Wednesday. Please remember that masks are required in these larger gatherings, thank you!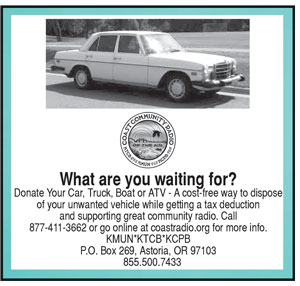 GREAT SURPRISE--Tom Webb may have thought it was just going to be a regular day last Friday, as shopping and clam digging were on the agenda, but little did he know that his family was throwing him a big surprise birthday party at the Duck Inn to help him celebrate his 80th birthday! Needless to say, when he walked through the doors he was surprised to see many friends and family with balloons and a cake and food, all ready to cheer him on as he takes on the amazing 80s. You go Tom!
THIS SATURDAY--The monthly Flea Market will be held at the fairgrounds this Saturday, 9-3 so come on down and check out all their stuff. There's always new things added and also new folks who rent a table and sell their things, so you never know what treasures you'll find. You too can rent a table to sell your stuff or your craft items for just $10, so contact the fair at 360-795-3480 to get your name on the list.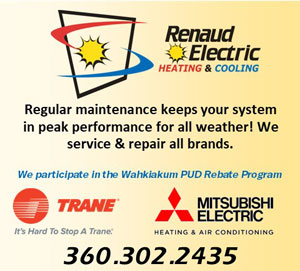 BIG DAY--Besides the Flea Market on Saturday, this is the day of the Lighted Parade in Cathlamet, so be sure to check that out. There are to be many vendors and things down at the Marina/Brewery area, so we hope you'll get a chance to take that all in. Remember, there may be some blocked streets that evening, so prepare to shop early so you get what you need and that you know how to be able to go around the closed off areas.
FRIDAY AND SATURDAY--The drive-thru light show at the Wahkiakum County Fairgrounds takes place this Friday and Saturday evening and then again next Friday and Saturday, (Dec. 17 and 18) so we hope you'll load up the kids and cruise through the fairgrounds!
FOS/LAST WEEKEND--We hope you've had a chance to check out the "Deck the Hall" vendors at Redmen Hall. If you were there earlier, you may want to check it out again as they have some new additions. I saw some gorgeous, huge wreaths by Daisy Chain Floral that had been added to the things upstairs, so here's your chance to support local and get a gorgeous addition to your house this holiday season. Beings the event will only run through Dec. 12, this is the last chance you'll get to see what they have available.
CONGRATS--We'd like to congratulate Amy Gurley for her 30 years at the bank on Main Street in Cathlamet. She's always been a helpful, patient and very kind person in all the dealings we've had with her, so we'll hate to see her go. Here's to enjoying your retirement Amy, you deserve it!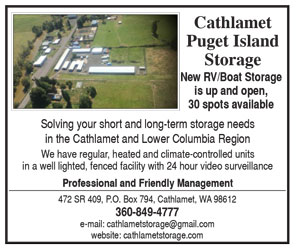 SURPRISE VISIT--Jim and Karen Blain surprised the Bill Chamberlains last weekend when they stopped by for a bit. Sadly, they had come to attend a funeral service on the west end, so it wasn't exactly a cheerful reason to come this way. While they were in the area, they also made a stop to see Jim's sister, Lorraine McNally, which certainly pleased her.
COLLECTING WARM CLOTHES--The Puget Island Auxillary group will hold a "Give the Gift of Warmth" clothing drive where they will collect hats, gloves, scarves and coats and this will take place until mid-January. They will have collection barrels outside the Puget Island fire hall so you can donate and they will also be collecting them as they will take part in the Santa run this weekend. If you have any questions, please contact Sherrill at 360- 951-3985 or Liz at 360-200-2247.
SHOEBOX GIFTS--Don't forget that Dec. 19 is the deadline for those "shoebox gifts" that are being collected and will be passed out to those who might not ordinarily get a gift for Christmas. We hope you'll get one and pack it with goodies and make somebody very happy this year. For more information contact the Wahkiakum Chamber of Commerce, 360-795-9996.
OUT OF THE PAST--This week back in 1946, it poured rain all week long and roads were flooding and it was miserable, with snow showing up in the hills on the last day. The old red house that sat on the dock belonging to Jonas Pedersen, finally succumbed to the pounding rain and high waters and fell into the river. It was towed to some dolphins and lashed down. George Everest returned from Pearl Harbor after six years in the Navy and was now going to spend his first Christmas at home during all that time. He was expected to be discharged in February. The Riverview Rebekah Lodge group held a Christmas party for members, Odd Fellows and their children and friends, with even a visit by Santa who handed out each child a gift and a bag of candy. Later on, Phoebe Olsen and Elva Mast had the group sit down for a wonderful dinner, where afterwards, the grown ups exchanged gifts. It was a wonderful evening enjoyed by all.
Back in 1951, the week began cold but nice, and temperatures down in the 20s with only the last day being really rainy. The Bob Shane family was celebrating the birthday of their baby girl, while JoAnn and Bob McNally had a baby boy they named Michael. Mrs. Lillian Anderson now had a new granddaughter, named Susan Kay who was born to former residents, Mr. and Mrs. Maitland "Coonie" Anderson who were now residing in Sotherlin, Ore.
This was the week that the Eagle's Personality of the Week column showcased Elsie M. Everest, who was working for the Pacific Telephone and Telegraph office located on Cathlamet's Main Street and had been working there since 1927. At that time there were less than 100 telephones in the whole county, but now there were 350! There had been only three toll circuits to handle calls but now there were 13, with Grays River and Skamokawa now having direct circuits to Astoria. In the old days, there was telephone service from 7 a.m. to 9 p.m., but these days operators like Flora Tonkin, Mrs. Louise Johnson, Maxine Olmsted, and part time workers Rosemary Wolverton and Nina Witham and night operator, Ralph Everest, made it possible to provide 24 hour service. If only they could see things now! So, this lady who was born in Minnesota, and who worked as a demurrage clerk in her father's office, and who wound up being a teacher in a one room school back there, and who met and married a nice handsome man named Ralph Everest in 1913, wound up coming out west in 1926 and lived out their lives in this charming town along the river called, Cathlamet. All this according to my Grandma Elsie Everest's diaries.