Covid-19 update
One new case makes 264; omicron creates concerns
One new case of covid-19 was reported in Wahkiakum County on Tuesday, bringing the cumulative total to 264, with three cases considered to be potentially active. The number of reported hospitalizations remains at 18, and five deaths have been attributed to covid-19.
While 75.6 percent of the entire state's population, 12 and older, are fully vaccinated, Wahkiakum's number for the same population is still far behind, at 52.6 percent.
More than 4,500 doses of the vaccine have been given to residents in Wahkiakum County. By age, 27.3 percent of 12-17 year olds in the county are fully vaccinated, 43.9 percent of 18-34 year olds are fully vaccinated, 54.8 percent of 35-49 year olds are fully vaccinated, 52 percent of 50-64 year olds are fully vaccinated, and 59.6 percent of people age 65 and older are fully vaccinated.
There were 14 patients being treated for covid-19 at St. John Hospital on Tuesday.
Omicron variant
"We continue to learn more about this variant as cases are surging," Wahkiakum Health and Human Services Director Chris Bischoff said. "I'm not trying to bum anyone out headed into the holidays, but this is likely to be the worst variant and biggest wave of cases we've seen to date. Hospitals are forecasting and trying to prepare for a massive wave of hospitalizations.
"The early data suggests that omicron is able to infect people with either vaccine derived immunity or immunity from having had covid-19 earlier, at a very high rate. This early data shows that immunizations do tend to keep the worst effects and hospitalizations down. It's also doubly important to get boosters for all those who are due as those who have gotten their booster seem less likely to get infected.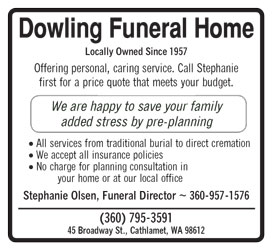 "Again we are still early on in learning about omicron so all information needs to be considered with that in mind."
Staying safe during the holidays
"It's the holidays and people want and need to get together," Bischoff said. "It has been a rough couple of years for pretty much everybody. If people are in the situation where they can avoid going to gatherings, they should. Getting vaccinated, getting your booster if you are vaccinated, social distancing, and mask wearing are still going to be the best ways to slow this down."
Volunteers lend their hands
"I am really grateful for all of our volunteers this year that have helped with the vaccine program," Bischoff said. "We have had some great nurses jump in and help our public health nurse anytime she needed it. We also had awesome volunteers helping with foot and vehicular traffic at our clinics. It is heartwarming to see people so vested in their community and its health, a big heartfelt thank you to all of them."
Vaccine clinics offered by WHHS will return to their normal Monday and Wednesday schedule, from 9 a.m. to 12:30 p.m., and from 1:30 p.m. to 3 p.m., on January 3. The health department offers the Pfizer vaccine and is located in the lowest floor of Wahkiakum County Courthouse. No appointment is necessary.
The Cathlamet Pharmacy has the Moderna vaccine available. Call 360-795-3691 for more information.