New exhibit at Redmen Hall begins Saturday
Skamokawa News
SOGGY--This past Saturday, when we hoped it would be nice and dry for the car show, we actually had over an inch and a quarter of rain by early evening; a real "sog-fest." This Sunday began wet and breezy but at least it stopped raining for awhile in the afternoon and we even got some sunshine. Unfortunately, the forecast for the week shows only one dry day, but I'm hoping that is wrong as I think we could all use a little more sunshine after such a soggy May.
SPECIAL DAYS--Those celebrating birthdays from June 9-15 are Brenden McClain, Terri Elfers, Mike McLaughlin, Elijah Doiron, Nicholas Danker, Sharon LaBerge, Paige Kehrli, Matalyn Longtain, Peyton Souvenir, Tanner Hoven, John C. Doumit, Sandy Boldt, Kelsey Briscoe, Gina Robbins, Kylee Souvenir, Sarah Phillips, Lacey Vik, Shane Kehrli, Robert Montgomery, Justin Anderson, Chris Songer, Erin Turner, Nikolai Almer, Karen Blain, Colton Reynolds, Andrea Hess, Kristian Pedersen, Sandra Kay Hess, Bailey Pedersen and 67er Noni Meredith.
Those celebrating anniversaries this coming week are David and Connie Shrum, Stewart and Ginger Moonen, Kim and Jesse Stone, Allyx and Zack O'Conner, Mr. and Mrs. Justin Watkins and Jack and Sherrolin Powell. May you all have wonderful days!
MARINA'S FARMERS MARKET--Just a little reminder that every Friday afternoon, from 3 to 6 p.m., vendors will be at the Elochoman Slough Marina, so please spread the word to all your friends who are looking for homemade items and products, that this is a good place to find them. They will be there every Friday until the first weekend in September so there are bound to be other things added as the weather gets nicer and the gardens start producing more fruits, veggies and flowers. If you'd like to be a vendor, contact Deb Holland at 360-849-9401.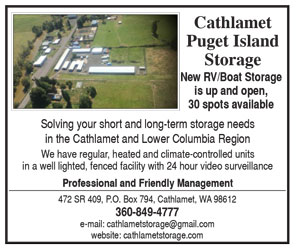 BIG NIGHT--This Friday, June 10, the Wahkiakum High School Class of 2022 will graduate and head out to discover the world. Some will continue their education, some may enjoy a break, while others will head right to work or go into a trade school. Whatever they opt to do, I hope all their hopes and dreams come true. With hard work and determination, all things are possible. As you go through life and especially if you're going into a job interview, I always say, "You never get a second chance to make a first impression." So, make it a good one. Good luck and congratulations to all you WA-KI-HI graduates!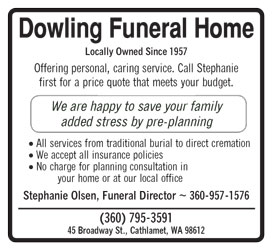 REDMEN HALL NEW EXHIBIT--You are all invited to the historic, Redmen Hall/Central School building this Saturday, June 11 where a new exhibit will be displayed called "Grand Ol' Flag" which is a flag collection with the history of them and also some patriotic memorabilia. The opening reception will take place at 1 p.m., so please stop by and check it out. If you need more information, you can contact the hall at 360-795-3007. The hall is located at milepost 29 in Skamokawa.
MONTHLY MARKET--On the second Saturday of each month, the Wahkiakum County Fairgrounds is the place to be as there is a huge Flea Market in the Youth Building. You can rent a table there for just $10, so you'd be inside, all nice and cozy while you sell your new or used items or crafts, etc.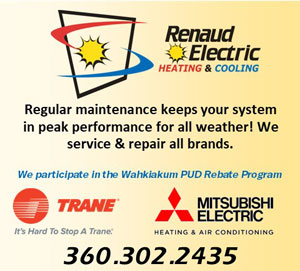 BINGO CANCELED--The Sons of Norway bingo games scheduled for June 11 have been canceled. Hopefully they will be back in business by July 9.
SUNDAY AT SK. GRANGE--Head to the Skamokawa Grange Hall at 18 Fairgrounds Road on Sunday, and check out their "Drum Circle" event. Their poster says this is a fun and noisy event, where people come together to share their joy and spirit rhythmically as a group. So if you'd like to come together as a community in rhythm and music and would like to have a fun time, this is the place to be at 4 p.m!
ADVERTISING--When it comes to holding fundraisers or holding events where you want to entice people to attend, there is nothing more important than advertising! All too often we drive by signs that are impossible to read, and if we can't read it, what good is it? You need to be honest with yourself and as you drive by it at 25-30 miles an hour, what can you really see? Is the lettering big and bold and to the point so one knows immediately what's happening? Is your sign so decorative that your lettering all but disappears in the fancy artwork? Did you put ads in several papers, on the radio, on Facebook and put out flyers and make posters at least a month in advance of your event? All too often I see an event on Facebook where a person posts it on Thursday and it's happening that weekend. The "Who, What, Where and When" of advertising does not work if one opts to wait until the last minute, so if you're wanting a good turnout, here's hoping you get the word out early and often!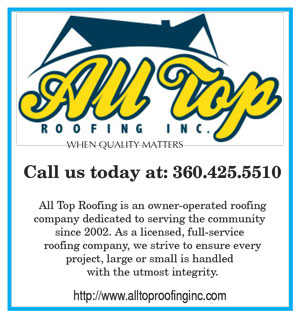 PIGYS--One event that has been very well advertised, and hopes for some sunny days, has been the yearly Puget Island Garage and Yard Sale that happens on the last full weekend of June. This year's dates are June 24, 25 and 26. Sandie York is in charge of this event and you can contact her at 360-430-0951 but if she's not available, contact Linda Jordan at 360-751-9938. There is a small fee so that you can be placed on the map. Get signed up ASAP and get ready for a great crowd of shoppers who love to take part in this annual event! Don't forget to check out the lunch special at the Norse Hall.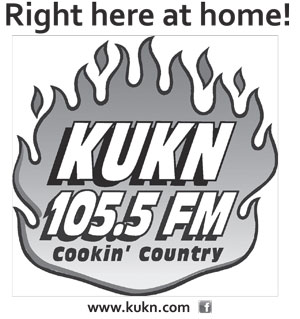 On a side note, all of those attending need to be sure to stay clear of the mailboxes so that the mail can be delivered.
FUN NEWS--Former Puget Island resident, Beverly Danielsen England, has sent me a notice saying that her nephew, Ken Hanes, will be on television during the next couple of months in the "Bold and Beautiful." Very cool! He plays Mike Guthery, a police officer and appears June 17, 28 and 29, and then again on July 6 and 7. Ken is the son of Bev's sister, Delores and of course, they are all very proud of him; and rightfully so. I may just have to turn on the "soaps" for a change and check him out!
NEW HERE?--If you're new to the area and you'd like to meet your neighbors or hear about all these events listed above, as well as other things, then come to the Skamokawa Grange Hall from 10 to noon on Thursdays and take part in a free breakfast; donations are always welcome. You can even bring something to share if you want, and may bring your own favorite mug and pour yourself a cup of coffee and then sit down to find out what's happening around the neighborhood.
One thing they will probably tell you about, if you don't already know, is the wonderful Skamokawa Vista Park, and how the ships look like they're going to come right on shore they're so close! The sunsets here are magnificent and make for a perfect place to practice your photography skills. It's also a place where the kids can play on the playground equipment or have fun in the sand, but as with all bodies of water, a watchful eye is needed when allowing children to play on the beach. You can go hiking there as well, or enjoy a game of basketball or tennis, along with some horseshoes; a real favorite. Don't forget, those afternoon winds are perfect for flying a kite. This place is truly a gem.
You may also learn about the disc golf course in Skamokawa at the end of East Valley Road at the Inn at Lucky Mud, which is very unique and of course, we've got the kayaking center located on Steamboat Slough Road, where you can take tours of our sloughs and the river and not only learn all about handling a kayak, but enjoy all the wildlife too. Our refuge roadways provide you with a place to walk or bike around, so there's lots of outdoor things to do around here; enjoy!
SYPMPATHIES--It is with heavy hearts that we send our deepest sympathies to the families of Jack Gorley and Dave Heiner this week. Jack had lived in our area since 1944 and was an outstanding, hard working and wonderful man and we certainly lost a great member of our community when he passed away on May 27. Our sincere condolences go to his wife, Gwen and his son, Troy and daughter, Treasa and all the rest of his family. His graveside services will be held this Friday at 1 p.m., at Greenwood Cemetery.
A Celebration of Life gathering will be held for Dave Heiner on June 18 at noon at the Dowling Funeral Home in Cathlamet. A small graveside service will be held afterwards at Greenwood Cemetery. Dave was only 55 years old and it's always extra tough when good people die so young, especially after valiantly dealing with a broken back, different cancers and battling and finally succumbing to ALS; just not fair. He was married to the love of his life, Rhonda for 35 years and leaves behind two daughters, Desaree and Stephanie and multiple grandchildren. He is also survived by his brothers: his twin, Doug, Scott, Dale, Willie and Ricky and their families. Our deepest sympathies go out to all of them and their families as well.