Tsuga Gallery to celebrate anniversary
Skamokawa News
NICE HOLIDAY--This past Monday was the Fourth of July and it was pretty doggone nice considering the forecast had been for rain, so the dry weather with some sunshine that opted to show up was great! We had a few sprinkles during the weekend here but not everybody did, so it wasn't too bad for those who traveled here and there to enjoy the early fireworks that took place in various locations.
SPECIAL DAYS--Those celebrating birthdays from July 7-13 are Jaiden Mahitka, Patty Dursteler, David Shrum, Mallory Bosch, Irene Martin, Jalynn Rainey, Brynn McClain, Samantha McClain, Lee Wages, Jordon Fritzie Collins, Tyler Heagy, Alex Bonds, Tony Carriker, Mike Thomas, Adin Hoven Quintero, Lachlan Lorenzo, Autumn Cochran, Steve Hart, Melissa Robbins, Jessie Caliman, Kurtis Bergseng, Brad Towery, Dean Takko, Sunny Manary, Ron Miller, Bryce Good, Blake Sechler and 67ers David West and Doug Wright. Hope you all have wonderful birthday celebrations this coming week!
Those celebrating anniversaries this week are Lance and Shannon Britt, Greg and Cindy Lloyd, Lance and Heidi Souvenir, Mr. and Mrs. Mike Swanson, Mr. and Mrs. Dave Hendrickson, Mr. and Mrs. Dana McClain, Natalie Emery and Roger Wise and Carol Carver and George Exum. May you all have memorable anniversary celebrations!
ANNIVERSARY FOR GALLERY--On July 15, the Tsuga Gallery will celebrate anniversary number 11, along with their "Freaky Friday" event, so they hope you'll stop by. If you happen to come by around five that evening, the group says you'll get to enjoy a slice of pizza and some cookies, etc., so here's hoping they have a good turn out in order to celebrate their anniversary!
QUICK REMINDER--The Farmers Market and Trunk Sale will take place from 3 to 6 at the Elochoman Slough Marina in Cathlamet, just like every Friday until September, so they hope to see you there. More vendors have been showing up with new items and more produce so if you went once and didn't see anything you liked, be sure to go back and check again; you might be pleasantly surprised as to the recent additions. And no, it's not too early to start Christmas shopping!
HERE THIS SATURDAY--This Saturday is the second Saturday of the month, so the Wahkiakum County Fairgrounds will be the site of the monthly Flea Market in the Youth Building. The hours are from 9 to 3 and we hope you will come down and check out what the vendors have for sale, or if you're selling things, we hope you have a prosperous day! Remember, you can donate things or sell things yourself, so if you're interested, contact Patty at 360-795-3480; leave a message.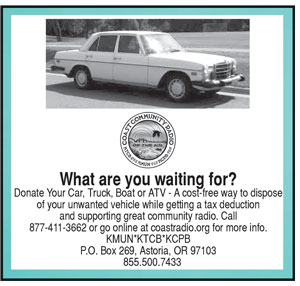 TICKING AWAY--The Bald Eagle Day Festivities will be happening really soon, so make sure you're there on July 16 for all the fun, the wide array of vendors, great food, terrific parade on Main Street in Cathlamet, with more action down at the marina with a food cart and beer gardens and more and then later that evening, the wonderful fireworks show; enjoy!
BINGO--In between the hoopla in Cathlamet that day, you're invited to take a seat at the Norse Hall and play some bingo games with your family, friends and neighbors in the early evening hours. The Sons of Norway lodge members would love to have you win some of those cash prizes while you "rest up" so check them out. The hall is located on Puget Island at 444 SR 409.
SYMPATHIES--We'd like to offer our deepest sympathies to one of our former Eagle writers, Sunny Manary, as she recently lost her Mother. Losing our Moms is always extra tough so we'll be thinking of her in the coming days as she deals with her grief.
GET WELL--A dear friend, Barbara Brewster, took a tumble recently and broke her hip, so she was off to the hospital and into surgery in order to get herself a new one. She came through that with flying colors. The hard part of rehab and physical therapy and all that is a little more daunting but she's still plugging away, so I wanted to give her a big "Get Better Soon" shout out and hope she's able to get home soon!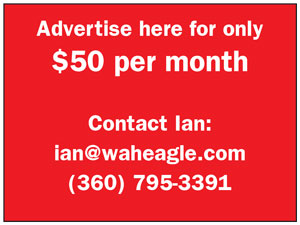 REUNION CANCELED--According to Ed Whittle, the 40 year WHS class reunion that was to be held by the Class of 1982 at the River Mile 38 Brewery on July 9, has been postponed until August. A date has yet to be determined. You can contact Ed or his brother Darrell for more info on Facebook. Once they decide, I will try to let you know what's going on as well.
OTHER REUNIONS STILL A GO--The WHS Class of 1967 still plans on meeting on Bald Eagle Day (July 16) for their 55th class reunion after the parade at the home of Dale Jacobson around 1:30 p.m. He lives on 2nd street near the marina and close to the brewery and the class is happy to see any other graduates from WA-KI-HI, so stop on by if you're so inclined. All classmates are urged to spread the word on this upcoming event, along with the date, time and place. Classmates are urged to bring what they like to eat as you'll be taking home any leftovers; lol!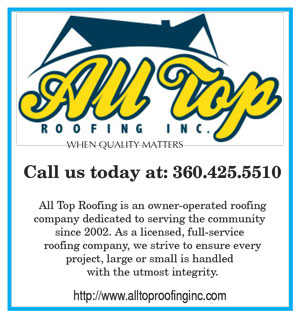 The WHS Class of 1972 reunion will take place Aug. 20 at the marina in the covered area section near the office/bathrooms, so they hope all their classmates will show up. This is a "classmates only" reunion. Contact Darlene Dobbins at: darelenea@aol.com for more info.
POSTAGE GOING UP--Just in case you want to save a couple of cents, the USPS is upping the cost of their first class stamps from 58 cents to 60 cents as of July 10. Beings this paper comes out on July 7, you've only got a couple of days to buy those rolls of stamps and save a bit of money, as Christmas card time will be coming up before you know it and we all know that saving a dollar here and there right now might just be a good idea!
MAIL THIEVES?--I recently heard of a woman on Puget Island who was the victim of mail theft and I was wondering if anyone else had experienced this? We often see folks picking up their mail along the highways and don't think anything about it, but maybe, just maybe, that person is actually a mail thief and beings they are just doing this in broad daylight, they want you to think that they are just the rightful owners stopping to pick up their mail; so very bold! If you do find yourself a victim of mail theft, be sure to contact our local authorities (360-795-3242) so they can compile a list of when and where this is happening. In the meantime, it's a good idea to retrieve your mail as soon as it's delivered.
SPECIAL OCCASIONS CELEBRATED--Pete and Katie Sechler were finally able to take their trip in order to celebrate a special wedding anniversary which, thanks to Covid, had been delayed for the past two years, so they were super happy to finally get to go. While on their trip to England and Spain, they also celebrated Katie's birthday as well as Father's Day, so it was definitely a multi-celebration. Joining them in Spain for the various special occasions, were all four of their kids and two daughters-in-law, which was certainly special. Newlywed Blake and his bride, Michaela were also enjoying this trip as a delayed honeymoon, and they also wound up making a side trip to Casablanca, Morocco prior to joining the rest of the family, so it was quite the trip with many occasions to celebrate and many memories made as well.