October 11 WordFest celebrates coastal writers
Courtesy photo.
WordFest will feature writers from Wahkiakum and Pacific counties on Tuesday, October 11, 6-8 p.m., at St. Stephen's Episcopal Church, 1428 22nd Avenue in Longview.
Peter Adams Young will read from his novel One Hundred Stingers, based on his experiences flying in the air war over the Ho Chi Minh Trail. The trail was an extensive web of roads and paths winding through the jungles of Laos, connecting the ports of North Vietnam with Communist fighting forces in the South. The challenge of cutting off this steady flow of combatants and materiel pitted the technology of United States air power against the implacable resourcefulness of the North Vietnamese regime. The need to maintain the illusion of Laotian neutrality meant that this conflict was nominally conducted in secret.
After graduating from the US Naval Academy, Young flew nearly one hundred combat missions over Laos and North Vietnam. He wrote the first chapter of One Hundred Stingers, in 1973. After retiring in 2016 from a career designing and developing military command and control systems, he found the time to complete the novel. After living in San Diego and Portland, Oregon, he and his wife moved to Pacific County, where he is active in veterans' groups while working on the first of a series of contemporary murder mysteries set in and around Civil War battlefields.
Poet John Ciminello will read from a selection of his work. His poems are about place, gratitude, and service, and shaped with words, breath, rhythm, and story. A native of Washington D.C., he grew up on the east coast before he and his wife moved to the Pacific Northwest 40 years ago.
The author of three chapbooks, Shrine Above High Tide (2009), Magnolias, Mockingbirds, and Sweet Potato Pies (2017), and Bone River Elegy (2022), he writes "from a place of profound humility since I am as lost as anyone on this strange, crazy, kaleidoscopic journey we call life. My work is an offering to the holy and an incomplete record of my time here." His work has appeared in the anthology Songs from the Flowering Mountains (2021), in Rain, Analog, Squid Ink, Mentor, the Salal Review, and The Sun.
Kyleen Austin will sing a number of original songs, from one of her earliest pieces, "Leaving Colorado," to songs reflecting her life in the Pacific Northwest. She will also discuss the inspiration and story behind the songs, like "Middle of the Lake," written during an epic solo kayaking expedition from Ketchikan, Alaska, to Puget Island on the Columbia River in 2019.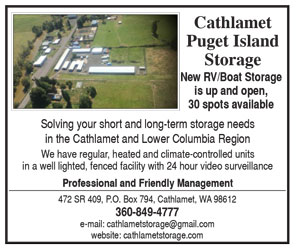 A resident of Cathlamet, Austin is a singer/songwriter, kayak coach/guide, and grower of food. She performs solo throughout the US and is a founding member of the band Skamokawa Swamp Opera. People can find her work at her website, kyleenaustin.com, and on the Kyleen Austin YouTube channel.
Jan Bono from Long Beach, WA, will read from her new book, Pen Pals, In the novel, 39-year-old Delia Griswald is determined to find a boyfriend before hitting the big 4-0. She places a personal ad in a large city newspaper, which garners 63 responses. The best writer, and therefore the candidate with the most appeal, quickly becomes her pen pal. Unfortunately, that pen pal resides in the state penitentiary. Believing in second chances, Delia grows closer with her new pen pal until she learns he is soon eligible for parole. What could possibly go wrong?
Bono has previously published a collection of 12 "murderous" short stories written earlier this year, as well as a 6-book cozy mystery series, all set in SW Washington.
An open mic will follow as time permits.
Due to Covid, it is recommended that people be vaccinated and boosted if possible, and wear masks when not eating or drinking.
The monthly gathering of readers and writers meets the second Tuesday of each month, 6-8 p.m., in the fellowship hall of St. Stephen's Episcopal Church. The events are free and open to the public.
For more information, contact Alan Rose at http://www.alan-rose.com.