Busy school board hears wage request, other varied reports
There was a full house at Wahkiakum School District Board of Directors meeting January 17, with classified employees in attendance in support of ongoing negotiations, people preparing to give presentations on school trips, career technical education and robotics program success, the wellness committee, and grant opportunities for facilities improvements. Even the Seattle Times was in attendance, with a photographer taking pictures and a reporter taking notes.
Haanah Ohrberg, a seven year district employee spoke to the board as president of the Wahkiakum Education Support Professionals, on behalf of the classified employees who have been without a contract for five months.
"Members are frustrated about lack of respect they have felt through the negotiation process, she said. "Inflation is rising across Washington state. The Washington State Legislature stipulated at least a 5.5 percent pay increase to keep up with costs in the state, but the real inflation rate is much higher than that and after years of insufficient raises, many of our school staff are already struggling with the rising cost of gas to get to work and to heat their homes."
Classified staff are among the lowest paid in the area for their job category, she said, and the state minimum wage caught up and surpassed one position's starting wage rate. They have been operating in crisis mode for two years, putting the needs of students and the district ahead of their own.
"The district must show it supports us," Ohrberg said. "Please settle a fair contract with our union."
Wahkiakum High School teacher Don Cox spoke about his seventh trip to Germany with four students this coming spring break. They will visit the Rhine River Valley, staying in youth hostels, which this year will include a medieval castle. He said the group will travel by the German train system, by foot, and down the Rhine River.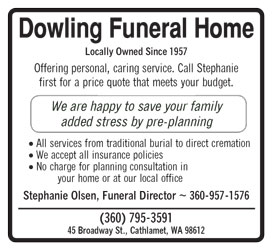 This year was unique, according to Cox, because his students raised all the money they needed for the trip, about $5,500 through concession sales, a dinner theater night at the school and selling pens handmade by Cox. Students still have two fund raisers left, a bingo night and rummage sale.
The school board approved the overseas trip for the group.
Ron Wright, who is the advisor for the Robotics Club, talked about Career Technical Education competitions through an organization called Skills USA. He believes the competitions will benefit Wahkiakum students, and that he believes the vision for the kids and the district is a combination of natural resources and high tech. The CTE competitions will help students achieve educational and engineering goals in things like robotics automation tech, engineering technology and design, electronics technology, and more.
Wright said students were already using the program, going to Ilwaco for a regional tournament for mobile robotics, and the following Wednesday a robotics automation contest in Naselle.
"Once we qualify," he said, "state is in April in Tacoma."
Wright said along with the high school robotics, a middle school robotics program is teaching engineering and problem solving. He said they held a contest last Friday in Naselle, the new KM Cup, which will be held periodically, and they hope to get back to showcases.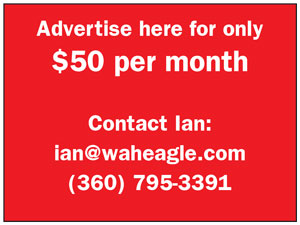 The district continues to do its own problem solving, seeking out a myriad of ways to improve facilities. Apollo Solutions visited the school board again to talk about the work they do, and have been doing at Wahkiakum School District, which includes planning and applying for grants necessary to complete work at the school district to improve facilities. Their focus on Tuesday was energy improvements.
Robin Westphall, a former member of the school board, is facilitating a reinstated wellness committee at the district, which was put in place to establish goals for the district level wellness policy and to oversee its development, implementation, periodic review and updating.
The committee is focused on fitness, nutrition, gardening, and meal planning. Students are learning those skills and others in different classrooms. They are learning where food comes from, and have even learned to process deer, elk, buffalo, moose, and pork. More skills include canning, smoking proteins, and learning to make their own fishing poles.
In other news, the board approved a Kelso-Wahkiakum School District Combined soccer programs, which allows students from more than one school to compete as one team.