Port 1 board considers request for float plane base at marina
Rick Nelson
By Diana Zimmerman
The Wahkiakum County Port 1 Board of Commissioners talked about improvements at the Elochoman Slough Marina at their meeting last Tuesday and heard from a float plane enthusiast who would like to make Cathlamet his home base.
Initially disheartened by a public response to his query in November, float plane owner Brian Fleming felt encouraged after some more recent and positive conversations with various people in Cathlamet and reiterated his desire to move his aircraft and hangar to the marina.
"I'd like to do it, my resolve hasn't changed," Fleming said. "Seems like we got some negative press but that seemed to blow over. I know there has been a lot of concern about potential noise, but we are quieter than a lot of boats. We take off and land in the channel. I'm not making noise downtown."
Commissioner Brett Deaton responded to both counts, saying he'd heard very little negative response, and adding that some jet boats were louder than the float plane.
"I'm coming right now as a sportsman," Fleming said. "I operate like the people with the boats do, as sportsmen. I won't fly any more than an avid boater operates. I have to work, I have a family. It's when I get to sneak away, but I don't think I'm going to be down here so much where I think I'm going to be a nuisance."
As for operating a commercial craft and providing tours, Fleming is still interested, but only if it finds support in the community.
"I don't want to fight the current on doing that," Fleming said.
Commissioner Scott Anderson voiced what has been the port's biggest concern since Fleming first approached them; where to locate the hangar.
For now, the end of F Dock seems the most likely site, but much depends on the hangar's dimensions.
Port Manager Todd Souvenir said the port would need to consider a few other matters such as potential revenue, costs, including for new pilings, and permitting.
"It doesn't happen overnight," he said.
Commissioners authorized the port manager to continue the conversation and negotiations with Fleming.
According to February's financial report, revenue totaled $313,353.92 at the port, which included a $250,000 loan from Wahkiakum County for the C Dock replacement, and expenses totaled $346,123.58, which included capital outlay of $314,037.47.
"We spent a little money," Deaton said, "but next time it will be much better, I think, after springer season."
Diana Zimmerman
Anderson agreed.
Souvenir said that the work on C Dock went smoothly and that everything was completed. He also said that the Riverview section and the dike now had power and water, but there was still a bit of cleanup to do.
The new fish cleaning station designed and fabricated by RD Olsen was installed on Monday. The total cost for the finished project was $5,900, well under the estimated $9,500. It includes a cutting board and will have a removable box for fish carcasses which port staff will empty periodically.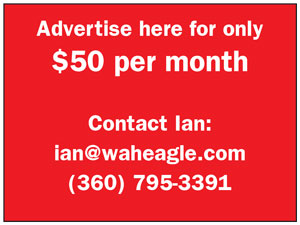 "The marina looks fantastic," Deaton said. "The fishermen will be happy. For a while."
Souvenir said that fishermen were starting to arrive for springer season and that there was a waiting list for RV sites, camp sites, cabins and a limited number of boat slips available.
"Springer season should be very good," he said.