What's happening at the Fair?
Greetings from the fair office. Wow! it's hard to believe we are only four weeks away from the fair.
Animal entries came in last Friday and it looks good. Fair books are out, so hopefully everyone has one and is getting their entries ready for the fair. Check the fair book for days that entries come in. Monday August 14 enter all exhibits except livestock, baking, garden and floral from 3 p.m. to 8 p.m. On Tuesday August 15 enter baking, garden and floral. And on Wednesday all animals come in (except dog and cat). If you haven't got your fair pass yet the fair royalty has them (Lydia Blalock and Ellie Gilbert) or you can buy them from the fair office. The cost is only $7.00. We have some new vendors this year at the fair, including some new food vendors. We have a mechanical bull coming so come out and see if you can stay on for eight seconds. Logan's Duck Inn will be back with the beer garden so come out and have a drink and listen to the music. Saturday from 3 to 5 we will hold the first youth talent show. If you want to participate please call the office as soon as possible, (360)795-3480.
Congratulations to Catherine Rainey for having the fair book dedicated to her for all her valuable service over the years for the fair. This year's theme is '"Stirrup Some Fun."
Two weeks after the fair is the Smoke on the Water Fest. Trust me, you don't want to miss this. Tickets are on sale now at smokeonthewatermusicfest.com. Ten Pacific Northwest bands will play along with Canaan Smith, Cort Carpenter, and Rodney Atkins. Buy your tickets early so you don't miss out on the early bird pricing.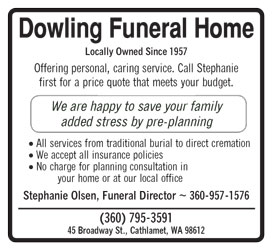 Hope to see everyone at the fair.