Candidates express competing visions for Cathlamet: Joe Baker
Baker talks Butler Street, waterfront
Diana Zimmerman
Baker talks Butler Street, Waterfront
Joe Baker is hoping to continue serving on the Cathlamet Town Council after being appointed to fill a vacant spot in March this year.
Baker is a relatively new addition to Wahkiakum County. After retiring from a 40 year career as the theater manager for Green River College and director of a popular Heavier Than Air Family Theater Company, he and his wife moved to Cathlamet. He recently started the Columbia Street Theater Company, and hopes to put on a production of A Christmas Carol over the holidays.
"Politics at the basic level is not politics," Baker said. "It's neighbor to neighbor. And this is the basic level of politics, the town council. Not a city, a town. I've got free time. I don't want to sit and waste it. I loved this town when I first found it. And the more I got to know it and the people in it, how wonderful people are and how much they care about this little area, I wanted to do something."
"I go in with nothing," Baker said. "I don't have an agenda whatsoever. My agenda is to do what my neighbors want to get done."
One thing his neighbors were talking about recently was the disrepair of Butler Street.
"That has become sort of a big deal," Baker said. "Right now I'm fighting tooth and nail to get that road fixed. But I might lose, I might win. I'm going to try to get that road fixed as hard as I can. It needs to be fixed. Maybe not the way they proposed it originally. When I saw the paper that said it was going to cost two thirds of a million dollars, I suggested a grind and cover, which I see all the time on freeways and on the roads where I come from."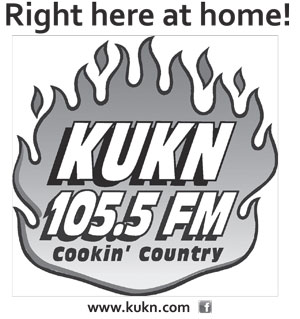 "Hopefully we will be able to do something about that, if not this fiscal year, then definitely the next," he added.
Another concern is the waterfront park.
"That's a big deal to me," Baker said. "I want that. People have been asking for that forever. I've seen plans for it on the books for a long time, it just hasn't gotten started. Even if we don't have the money to put in all these little amenities like concrete sidewalks, and lit paths and electrical outlets everywhere, we've got to get started. Fill in those holes and plant some grass and put a place for people to come in and throw a blanket, or bring a lawn chair and listen to some bluegrass music and look at that river. It's beautiful. When that gets done it will be a place for the community to gather and talk and revolt against us if they need to."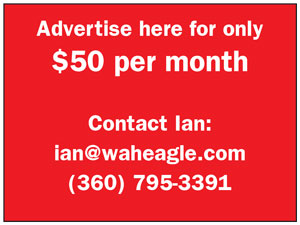 "It's just something that I think would be very nice," he added. "I've talked to people who say we already have parks and they are not being maintained. Well, lets maintain those parks but let's not forget that that is an area that people will go if it's nice. People will walk. People are constantly walking there now, but the sidewalk could be much nicer. And people would come from all around this area to do it, as well as people that come to the marina to fish. It would be a nice place to do some live music and be able to enjoy the beautiful view of the river we have in Cathlamet. I don't think people realize how lucky they are to live here or how lucky they are to have the neighbors they have here."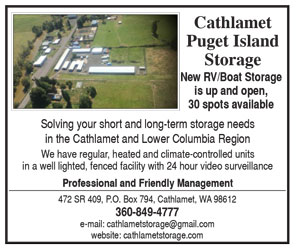 "You don't walk around here and see huge garbage bags full of garbage thrown on the side of the road, or blue tarps going up everywhere and people having to live under them," Baker said.
"It's a nice place. That's why I want to be on the town council, because I want to keep it a nice place and I want to make it a little bit better. I want to maintain what we have and build on what we have. That's what I think local politics is about. It's not about fighting. People can agree on something and work together and get it done."
"It's not much, is it?" Baker said. "This is not ego driven."
Baker said he's worked on several committees over the years as an employee for a college. He was on a wellness committee, helped design a new performing arts center, an artist speaker series, and set up commencement every year. He also designed displays for the college at the Puyallup fair, and got six commercial first place exhibit awards. He was honored with a hometown hero award for being a good citizen in Auburn and was also instrumental in raising money for several projects.
What has he learned in the past six months on the town council?
"I've learned that people don't have the same sense of humor I have and sometimes you have to keep your mouth shut during meetings," Baker said.
"The budget is coming up," he added. "I'm learning we don't have a lot of money. I've learned that you've got to be real careful with your books, and that you have to think twice before you decide you are going to do something because of the lack of funds. So you have to set priorities."
Baker was also pleased to see what his colleague Robert Stowe was able to do with pickle ball, acquiring rackets, nets, and balls, and holding a pickle ball tournament.
"Good streets, good parks, good neighbors" is his motto.