Tree lighting ceremony to be held this Saturday
Skamokawa News
SOME MOISTURE--A couple of days last week saw some raindrops around here and some cool temperatures but considering we weren't in the midst of "Nor-easter" like many states back East, nor the dry, firey conditions of California, I'd say we were doing alright! We have had quite a bit of fog though, so it's good to remember that while headlights might not make you see any better, it will certainly make it easier for others to see you, so here's hoping you'll flip them on every time you turn the key in your car/truck!
TURKEY DAY--If you are reading this on Wedneday, Nov. 21, I am sure you're running around doing all that last minute cleaning and baking for the big day tomorrow, as it always seems pretty hectic just prior to the big day. I do hope that whatever you do, wherever you go and whoever you are with, that you have an absolutely awesome day! Happy Thanksgiving to all of you!
SPECIAL DAYS--Those celebrating birthdays from Nov. 21-28 are Danny Silverman, Dana Montgomery, Toni Below, Mike Brown, Kyli Quigley, Cheryl Parker, James Jacobson, Sharon Deaton, Bryce McCoy, Sarah Clark, Linda Ostervold, Butch Owen, Sandy Everman, Don Ross, Nancy Good Garcia, Hank Ferguson and Robert Kyle.
Happy Anniversary wishes this week go out to Sherry and Mark MacCormack, Tracy and Scott Tomlinson and Mr. and Mrs. Bud Cowan and Virgil and Lisa Cothren. Here's hoping all of your birthdays and anniversaries are just wonderful this coming week!
REMINDER--Just as a little reminder: there will not be a free movie this Friday, Nov. 23, at the Community Center in Cathlamet. They are doing this so that everyone can enjoy the holiday weekend with their families.
THIS IS IT--It's going to be an exciting few days ahead, as a few real nice events are coming up. First of all, you really need to come down to the historic Redmen Hall/Central School and see it all decked out in its holiday finery! Plus, you'll want to check out all the holiday goodies that will be there, as unique gifts abound at the hall and there's surely an item for that special someone, which could even include one of the many books offered by local authors.
While you're in Skamokawa anyway Kyle Gribskov almost always has a wonderful exhibit and sale of his works at his shop at 123 Middle Valley Road, so you might want to check that out on Nov. 23 from 10 a.m. to 5 p.m. All items purchased this day come with a 20 percent discount.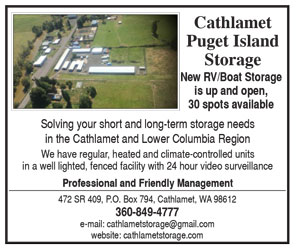 Then on Saturday, many, many vendors will be selling their wares during the Christmas Tree Lighting Fesitival in Cathlamet, Nov. 24 from 3 to 8 p.m. Head to the Hotel Cathlamet to check out all the goodies, as well as all the other activities going on that evening in the various stores, like Tsuga Gallery, as they are open later than usual this night. Don't forget, there's a special guest on hand, as we'll get to see our Wahkiakum County's own, Evelyn Clark there, who as you should know by now, is the reigning Miss Washington USA. Awesome! The caroling will take place at 4:30 p.m., and the tree lighting will take place at 5 p.m., and then you can enjoy shopping until 8 p.m., so we will hope for some nice, dry weather so we can stroll around town and take in all the great vendors and specials.
THINKING OF THEM--We've got several folks who could use our good thoughts and positive energy going their way, as we learned they are going through some health issues, so I hope you can join in and send some good vibes their way. Please keep our local talented musician, Kerrie McNally in your thoughts, as well as John Peterson who continues to struggle to get back to 100 percent following a serious health crisis and also former resident, Gail Munson Steigleman. They are all dealing with quite a lot right now and could use some support. Only our most positive thoughts are heading these folk's way.
SAD NEWS--It seemed like only yesterday, that Nora Lee Sorenson was telling me about her Mother's one hundred year birthday celebration, but sadly, we have now learned that her Mom, Lenore (Swanson) Sorenson, has passed away. She had a huge family along with many friends, which could be seen by the amount of people at her birthday party back in May, and I'm sure they will all miss her. We want to send our sincerest condolences to all of them as they truly lost a gem of a lady. Her services were held this past Sunday, Nov. 18, in Rosburg.
NORSE HALL--It won't be long and Santa will show up at the Norse Hall, as typically the first Sunday in December is their childrens Christmas party, and the smaller kids get to come and decorate cookies, make cards, play games, color pictures, sit on Santa's lap and tell him what they'd like for Christmas and enjoy some treats too. So, if you have little ones, keep in mind that this would be a good photo op for you, so bring the little ones over to the Norse Hall on Puget Island in a couple of weeks.
QUICK BRAG--I was happy to learn that grandson, Austin Good, who just graduated from Central University, has landed a job in Utah working for Probst Electric, and we were certainly thrilled for him, and very proud of him too! On top of that, granddaughter, Tessa Sechler, a senior at WSU, just got offered an internship down in CA, after all of her "go-go" energy and organizational skills were recognized after being part of a group that put on a run at Wazzu a couple of weeks ago. From the looks of things, my "little grandkids" are really spreading their wings and of course, their folks and grandparents couldn't be prouder!