Essential services adapt to social distancing
Voluntary and court-mandated mental and behavioral health treatments will continue despite coronavirus-related closures at the Wahkiakum County Health and Human Services offices.
Treatment will be offered through remote communication options except in situations where personal safety is at risk, according to county health officials.
Gov. Jay Inslee's stay-at-home orders have been extended until May 4 and the county's health department is planning for the long haul.
"Our clients have adapted really well to transitioning to using technology for their services and appointments," said Tristan Wozniak, behavioral health manager at health and human services.
The health department has been using tele-conferencing options to keep their services as accessible as possible, but there are several aspects that need to be considered. Not everyone has access to the internet or consistent cell phone service in rural areas. Upholding best privacy practices in remote group counseling is also a challenge.
"With...our current date for self quarantining... the current telecommunications plan makes me concerned that people will grow tired and wish for face to face again," Wozniak explained. "There is a lot of coordination and problem solving among agencies in several counties."
The health department has an informal agreement with neighboring counties to support a crisis system if someone's staff is impacted by COVID-19.
At the district court office, Judge Heidi Heywood and her staff are adapting to meet the needs of residents who are mandated mental health or substance use treatments.
"Our probation officers and probation clerk are helping those people fill the gaps between their mandate and the services of the treatment provider," Heywood said. "But it's still up to the individual to take responsibility for their court order in the way the provider has adapted their service."
Judge Heywood urges residents to contact their lawyer, probation officer, the probation clerk and to check their mail for court notices in order to stay in compliance with their mandate.
"If people don't stay in treatment, they're at far greater risk to relapse. Relapsing often leads to being charged with new crimes," Heywood added.
Despite the COVID-19 pandemic the courts and health department are making necessary adjustments. Recently, a domestic violence protection order was needed during social distancing. Heywood said her staff followed special protocols to protect the courthouse and those involved to get the order in a timely manner.
The crisis team at the health department, led by Liz Kimble, is working around the clock to respond to adults and minors who are experiencing a mental health crisis. Crisis staff is made up of case managers, therapists and behavioral health technicians who attempt to resolve matters through de-escalation strategies, information and referral, Kimble said.
A telehealth plan is currently in the works for the crisis team. For now, they are resolving situations over the phone and limiting face-to-face intervention. Kimble said in the event a crisis needs to be managed in-person she and her team will take necessary precautions.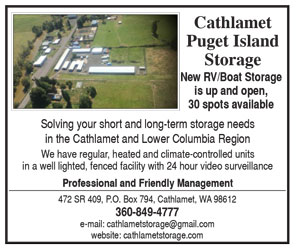 "Don't be surprised if we are wearing personal protective equipment and standing six feet away," Kimble said. "We are doing what we can to ensure everyone's safety."
Kimble said her team's goal of eliminating the cause of a crisis and providing relevant support has not changed. For non-crisis help lines, Kimble recommends the WA Warm Line, a peer-support line for people living with emotional and health challenges. There is also a COVID-19 emotional support help line through Optum national health services and Community Voices Are Born (CVAB) a peer-run organization in Vancouver, WA.
Wahkiakum County Crisis
County
Toll Free: 800-635-5989
Phone: 360-795-8630, ext. 9
24/7
WA Warm Line
Statewide
Phone: 206-933-7001
Toll Free: 877-500-9276
Monday - Friday
5:00pm - 9:00pm
Weekends
12:30pm - 9:00pm
Optum Emotional Support Helpline
National
Phone: 1-866-342-6892
24/7
Community Voices Are Born
Statewide
Phone: 360-903-2853
Monday - Sunday
4:00pm - 12:00am