Downriver Dispatches
News of Western Wahkiakum County and Naselle
Karen Bertroch
Movin' On: Yesterday was Sunday and the traffic changed on Loop Road in front of my house. For the 17 years I've lived here, I've watched weekend visitors drive by to the bridge. First, they go by to get to the bridge, then they go by to get back to SR 4, so I assume they went to the Covered Bridge. I suspect the new longer "detour" will cause drivers from Oregon to choose SR 4 to get back, rather than the longer drive on 101 to get to the Astoria Bridge and Highway 30. So I'm assuming we'll have busier roads out this way, certainly on Sundays as folks head home.
How can we benefit from that? I remember one summer my neighbor, Hannah Footh and her cousin, Bailey, both around 10 years old, sold lemonade at the end of the driveway. Lots of cars stopped and bought it, so many that the girls had to keep going back and forth to the house to make more lemonade. If we don't get a one lane detour on SR 401 this spring, we may just have a summer with more visitors to the Covered Bridge and other places in the county. Maybe I need a lemonade stand?
Spring Babies: Linda Nelson reports that there are 20+ calves so far in their pastures. They are so darned cute! I know spring is coming when the early calves are huddling in snow and then when the sun comes out, they sleep and eat and sleep and eat, just doing their job of growing. I have an annual bull frog chorus this time of year, too. He's "ribbiting" steadily every night at my little pond. Then there are the daffodils and the flowering trees coming along and it's spring again. Hallelujah!
Altoona/Pillar Rock Road: Took a ride out this road to check out what's new. Oh my goodness, I could see right away two new houses, one at the left turn for Eden Valley. A nice new house is overlooking Crooked Creek, I assume, then another beautiful house has appeared at Cottardi, down further. There are cabins, tent sites and a retreat sign for "Rose Retreat." I talked with Linda Elliott, the premier hostess at the Dahlia House B&B. She sent me a list of B&B's and camping places down along the beach. Here are the places she listed: Pillar Rock Cannery Escape (cabin on the beach); Pillar Rock Retreat (park model trailer); Captains Quarters (entire house); Beach Anchor House; Valhalla Cabin; Fairview (entire house). "Oh the Joy" is the camping spot at Rosburg Hall, then there is another spot at Pillar Rock. And the Rose Creek Retreat, too. I know there are more, so if I missed yours, let me know. I'll get you in next time. The Rose Creek Retreat can be found at https://campnative.com/campgrounds/usa/wa/rosburg/rose-creek-retreat. Thanks, Linda, for this great information.
Perhaps readers might know folks who would like to camp or stay out that way. Sounds like the Altoona/Pillar Rock area is becoming its own tourist area. And why not? It's beautiful, remote and next to the Columbia River so folks can watch ships going by. And it's peaceful and quiet, something many city folks crave to experience. I'm sure most of these can be found on the Air B&B web site. It's a special type of offering the west end of the county offers. On the other hand, it's not that far from Skamokawa, with its own charm, for folks to drive for dinner at the beautifully expanded Duck Inn. And so many loyal folks love Duffy's. Then there's the Rosburg Store for campers to find supplies, so it works. Folks can fish, swim and put their drift boats in the river at several sites, including at the Covered Bridge. It's a hidden gem area and very popular come summertime.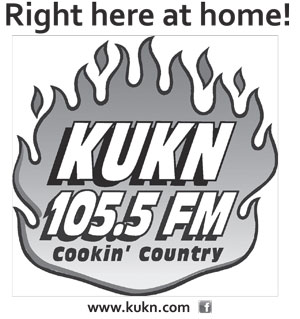 Easter Egg Hunt: Another sign of spring is coming, an Easter Egg Hunt at the Naselle/Grays River Valley School football field. It will be held April 3 at 11 a.m. sharp! It's for kids from newborns through fourth grade. Bring a bucket for the eggs, keep a social distance and wear a mask. It's hosted by the Girl Scout Troop of Naselle and sponsored by the ESA Alpha Theta #3711. How fun to see little ones running to find colored eggs in their spring outfits. Camera time for sure! Let's hope for a nice day and if not, it's still fun.
Three languages to pass the butter: I heard a story last week about the children in past generations who grew up in families where the mother and father were from two Scandinavian countries and the children went to school and learned English. It could take three languages to say pass the butter!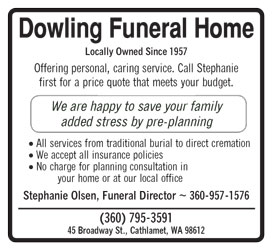 Senior Lunches: We once again have two lunches available for Seniors in the Rosburg-Grays River area. On March 31, the Rosburg-Grays River Senior Lunch Club will begin serving lunch on a limited schedule. The first dine-in meal since being shut down a year ago for the Covid-19 pandemic will be barbecued beef, coleslaw, potato salad, baked beans and dessert. Lunch will be served at noon at the Rosburg Community Hall. And today (Thursday), the CAP (take out) lunch will be available for pick up at Rosburg Hall at noon. The CAP lunch will be pork chops and gravy, mashed potatoes, dinner blend veggies, sliced apricots.
Zerr Property: Rumors have been running all over the place about the Zerr property being sold. Sulema Zerr told me that they have sold all but 65 of their contiguous acreage to a nice couple from California. The new owner is eager to take over running the place himself, and Sulema is helping orient and train him. Phil and Sulema have the house for 18 months, and possibly more, so it's a nice transition.
Grays River Grange: The Grange has a new library cabinet on the front porch. I will find out more and get the word out to you. I believe the Grange is again meeting in person on the second and fourth Tuesdays at 6:30 p.m. Please attend if you'd like to see what this very historic group offers. It is at the heart of our history here in the Grays River Valley, and deeply embedded in our identity as a farming community.
Correction: In the past article about Allan Berry's Olivers Gourmet Company, I did not give the correct web site. It should be oliversgourmet.net. Sorry, Allan!
Word for the Week: Hope.