Downriver Dispatches
News of Western Wahkiakum County and Naselle
Karen Bertroch
Weather: Big hail, wind, rain and cold so far, so I'm hoping weather improves later in the week when you get your Eagle. I often try to get a sense of who subscribes to The Eagle but still I'm not sure. If you think you can just read it on-line, you still will miss a lot. So think about supporting one local business, The Eagle, would you?
Naselle Camp: The Governor did not change anything in the supplemental budget, so it appears the camp will close. Boys will be gone by December 31 and property will change ownership on June 30, 2023. Here's hoping the state will at least bring in the Naselle/Grays River Valley School District's Superintendent and School Board for planning.
Nice Neighbors: A few days ago, Ken and Jennifer Pierce stopped at my driveway to visit. They own the red house at the south end of Covered Bridge. They are nice people who have retired and have a few acres with some animals. They have been through several flood events, so they know what high water means. There is a big pile of silt on the Sorenson Family end of the bridge. The county has removed some of it from the road, but it will get better if they can remove more.
Photo of the Week: Last week, I met with Connie Christopher from Cathlamet and we spent time sharing east and west side stories. She and I have always been active in non-profits, so we had a lot of talking to do. As you may remember, she was formerly the Cathlamet librarian. We talked a bit about fundraising and marketing. We both hope the Pioneer Community Center will be able to do all the projects they want. The former Pioneer Church is a wonderful historic building. Of course, the Farmers Market is always fun at the Marina. And many of us in the "lower" end of the county would like to know more about the location where the Crab Feed was held on Puget Island. It looks both pretty and well planned. And now it sounds like a new plan is underway for more new homes to be built in Cathlamet so these are exciting days. You will note Ben made his way in for this photo shoot. He loves to meet new people and is very calm once he's met a new friend. Until I introduce him, he is a bit pushy. He brings me a lot of friends because folks like to meet him more than me. And that's ok with me.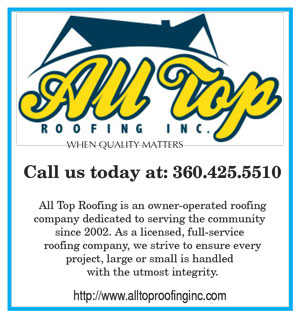 Zimmerman Farm's CSA Program: It's time to sign up for the CSA (Community Supported Agriculture) program from the Zimmerman Farm in Grays River. April Zimmerman and Farmer Tom Zimmerman work very hard to grow organic fruit and veggies on their farm on Covered Bridge Road. You can sign up for regular deliveries at strategic places in the region, boxes of whatever is in season, or you can pick up your box at their farm. Contact April Zimmerman for more information at (360) 465-2168. I found them on-line at GloryBFarm in Grays River. You can add them as a friend on Facebook, too.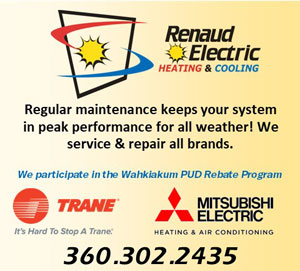 Finnish American Folk Festival (FAFF): At their last board meeting, there were 20 or so attendees. Two new members signed up: Kurt Koivu and Trudy Enke. Welcome! FAFF is seeking volunteers for various activities at the festival on July 29, 30 and 31. Good speakers, beautiful costumes, dancing, food, lectures and more will be offered. So much fun. Their next meeting will be on April 24 at 2 p.m. for Community Center and at 3 p.m. for FAFF.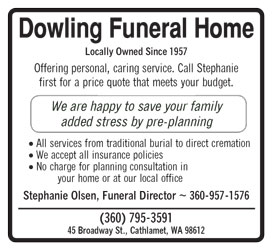 Easter Activities: Thanks to Carol Ervest for sending along information on the Naselle Lutheran Church's Easter schedule. Since Pastor Anna Haugen serves both Naselle and Chinook Lutheran Churches, activities and services are shared equally during the Holy Week of Easter. Maundy Thursday's service will be at Naselle Lutheran Church on April 14 at 7 p.m. Good Friday's service April 15, will be at the Chinook Lutheran Church at 7 p.m. The Easter sunrise service will be at 7 a.m. at Fort Columbia State Park. Later, there will be two Easter services with worship at 9 a.m. at Naselle Lutheran and at 11 a.m. at Chinook Lutheran Church. Saturday, April 30, the Naselle Lutheran Church will sponsor their annual Spring Festival from 10 a.m. to 2 p.m. They will offer Salads to go, Baked Goods, Quilts, Handcrafts, and plants and flowers, all made or grown in Naselle. Proceeds are dedicated to the roof fund and local charities. For questions about the Spring Festival, contact Sherry Hartline at (360) 484-7258 or email: nasellelutheranchurch@gmail.com. I sleep under a quilt I bought there at a very reasonable price several years ago. It's really warm and washes easily. Bendog doesn't shower before bed and he leaves "stuff" on that quilt, so I wash it often.
Easter Egg Hunts: Two hunts will be held on Saturday, April 16. The first one will be at the Naselle Football Field at 11 a.m. This event is for toddlers through grade 5. It's fun to bring a camera for that one. Sponsored by Finnish American Folk Festival and Naselle Education Foundation. The second is for grade 6 and above at Okie's Field at 9 p.m. Bring a flashlight.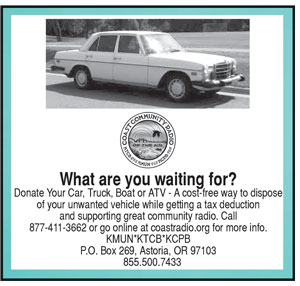 Calendar of Activities:
April 9: funeral for Ted and Sally Swanson at noon at Valley Bible Church. It will also be streamed on Facebook and You Tube for those who can't be there.
April 9: Bingo sponsored by American Legion at Rosburg Hall with doors open at 6 and games starting at 6:30. Three cards for $10. Proceeds support Legion's scholarship Fund.
April 13: Grays River Flood Control District's regular meeting is at Johnson Park at 5:15. Many thanks to Poul Toftemark and Eddie Blaine for their years of service keeping the district alive and to Charlie Shumar and Krist Novoselic for taking on two board positions to keep the district moving forward. There is still a third opening to be filled.
April 19: Naselle/GRV School Board meeting at 6:30. Naselle Youth Camp closure and RIF process will be discussed at that meeting. Lisa Nelson, Superintendent, will have a resolution for board approval.
April 23: Johnson Park's Super Sale from 9 to 4. For a table, contact Shonda at (360)465-2722. The Dress a Girl room at Johnson Park will also be open that day.
April 24: FAFF meetings at 2 p.m. for Community Center and at 3 p.m. for FAFF.
Senior Lunches: The Senior Lunch Club meets on two dates each month, the first and third Wednesdays at noon at Rosburg Hall. Next club lunch will be on April 20.
CAP's box lunches can be picked up every Thursday at noon at Rosburg Hall. Contact Denise at (360) 762-3111.Menus for CAP lunches include April 7: Baked Chicken, Potatoes Au Gratin, 5 way blend, Sliced Oranges. April 14: Chili Roll Ups, Roasted Potatoes, California Blend, Sliced Peaches, Brownies. April 21: Salisbury Steak, Mashed Potatoes, Scandinavian Blend, Tropical Fruit Salad. April 28: Pulled Pork Sandwich, Sliced Carrots, Broccoli and Cheddar Pasta Salad, Sliced Oranges, Pudding.
Word for the Week: Breathe