Graduations to be held June 9 and 10
Skamokawa News
NICE, DRY WEATHER--For those folks wishing for some warmer temperatures to go along with some nice dry days, it looks like you got your wish, as it's been pretty dang decent here lately. I think the wind kept us from being overly hot, so that was a good thing. Then again, it does help dry things out faster so we need to be mindful when it comes to doing any burning of any kind. Just a spark can lead to devastating consequences.
SPECIAL DAYS--Those celebrating birthdays from June 8-14 are Ryan Helms, Mike MacLaughlin, Brenden McClain, Terri Elfers, Mark Howie, Matalyn Longtain, Peyton Souvenir, Rodney Ingersol, Nicholas Danker, Paige Ferguson, Tanner Hoven, Scott Kensinger, Gina Robbins, Kylee Souvenir, Kelsey Briscoe, Shirley Good, Amy Horman, Colton Reynolds, Alec Christensen, Michaela Sechler, Sandra Hess, Andrea Hess, Kristian S. Pedersen, Bailey Pedersen and 67'er Noni Meredith.
Belated birthday wishes go to Mike Hicks, MacKenzie Stevens and Johnnie Peyrollaz who turned 96 mid week. Sorry about that, hope your special days were happy ones!
Happy Anniversary wishes this week go out to David and Connie Shrum, Stewart and Giner Moonen, Zack and Allyx O'Conner, Kim and Jesse Stone, Jack and Sherrolin (Mace) Powell and Mr. and Mrs. Joel Spangle. Here's wishing you all the best on your special days!
DOLLARS FOR SCHOLARS AUCTION--We are down to the wire for you to take part in Wahkiakum Dollars for Scholars "Mule Power" Sponsorship and Online Auction event. The auction will end on June 11 at 6 p.m., so be sure to go to: https://www.32auctions.com/Mules2023 and put in those bids right away. If you'd like to donate via cash/check/money order, you can mail that to WDFS at P.O. Box 498, Cathlamet, WA 98612. Here's hoping they get a great response to help raise funds for the continuing scholarships awarded to Wahkiakum High School graduates; it's such a great gift!
GRADUATION--Speaking of graduates, our Wahkiakum High School 2023 graduates will say goodbye to WA-KI-HI this Friday evening, June 9 at 6 p.m., and we want to send our heartiest congratulations to all of you! This was a pretty big class, as I counted 44 of you, so here's hoping you'll all be able to fulfill your dreams by working and/or studying hard in the days ahead. Good Luck, Grads!
BERRY ORDER DEADLINE--Don't forget that the time to order frozen berries of different varieties is looming, as this coming Monday, June 12 is the last day to order. Call Renee at 360-355-0871 ASAP if you want to order these berries from the Lions Club! You'll not only enjoy some great berries to make those yummy jams and pies, but you'll be supporting a very good cause as well.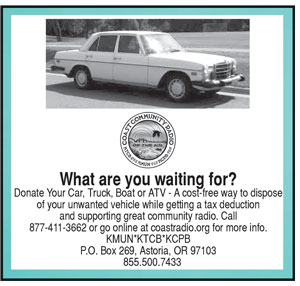 FLEA MARKET TIME--It's the second Saturday of the month this coming weekend and that means "Flea Market" time at the fairgrounds in Skamokawa, so check that out from 9 to 3. I was told it was going to be held on a different date but I think that's an error, as it's always been set up on the second Saturday, but if you have questions, contact the fairgrounds at 360-795-3480.
MUSIC AT THE GRANGE--Beginning at 3 p.m., June 10, the Skamokawa Grange Hall will be the place to be if you want to bring your musical instrument along and join in with others while VIBE puts on this June Open Mic, Live Music invitational! They will have a sign-up sheet at 2:45 and then the music begins at 3, with a jam session following that. It's another great opportunity to meet some other musicians or if you don't play, just come and listen. Don't forget, the coffee is always on! Donations to the Grange are always appreciated.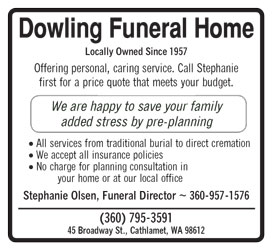 BINGO TIME--Another quick reminder of what's going on June 10 and that's bingo! Saturday evening the Sons of Norway will hold their monthly bingo games at the Norse Hall on Puget Island. Doors open at 5:30 and games begin at 6 p.m. Everyone is welcome to join in the fun and win cash prizes!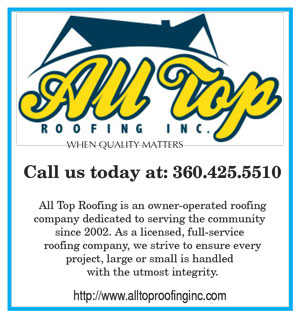 CAR SHOW WAS A HIT--The sunshine was out and the cars and trucks were shining like brand new pennies at the fairgrounds this past Saturday and the 100 cars that showed up for the third annual "Cruizin to the Fair" car show, were more than happy to enjoy this beautiful setting on this wonderful, sunny day. We often find ourselves with damp, drizzly conditions in June, so it was great to have the sun shining down on everybody. There were great prizes and trophies given away, so kudos to those who donated the prizes and congrats to those who wound up getting awarded those coveted prizes and trophies. The fair personnel hope to see you there next year too!
NEXT BIG EVENT--According to fair manager Patty Dursteler, it's now time to look forward to July, when there will once again be a mud wrestling event and a musical event right afterwards, called the "Shania Experience," so watch for further info on that event being held July 14 at the fairgrounds.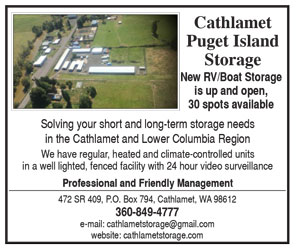 O'S GRAND OPENING--It's finally here; the grand opening of one of our all time favorite hangouts, "The O" (formerly known as the Oasis Tavern) will reopen Saturday, June 17 at 6 p.m. The historic saloon has been closed for some time now so its reopening will be a great treat just prior to the summer season. The Grand Opening will feature music by Steve Starlight at 7 p.m., and lasting until 11 p.m. There will wine, beer and food available via a food truck so here's to fun times ahead at the "O"!
PIGYS--Time is also ticking away for those taking part in the Puget Island Garage and Yard Sale June 23-25. The way time is flying by, it will be here before you know it. If you want to get on the map that is handed out to folks as they come over the bridge, you can pay just $15 and get your place included, so call Sandie York right away 360-430-0951.
If you've been doing some spring cleaning and have some good items that you no longer need don't forget that the Puget Island Fire Department is in need of things to sell and would gladly take them off your hands. Contact Sherrill at 360-951-3985 or Liz at 360-200-2247 and they can arrange to pick up things from you or meet you at the Puget Island Fire Hall for drop off.
FIFTIETH CLASS REUNION--I spoke to Becky Thacker this past weekend and she wanted me to pass along the reminder to all members of the WHS Class of 1973, that your 50th class reunion will be held Sept. 9. This will take place at the conference room behind the Skamokawa Resort/Store building in Skamokawa. Contact Cheryl Parker for more info and I'll pass along more to you as I get it. Spread the word to all your classmates!
VOLUNTEERS NEEDED--As we all know, it takes a lot of work and a lot of volunteers to put on big events and the upcoming Bald Eagle Days in mid-July are no exception, so please contact the Wah. Chamber of Commerce if you'd be willing to help them out in some way. Call the Chamber at 360-795-9996 and let them know what you'd be willing/able to do.
THINKING OF THEM--Many of you have probably already heard this but Paula Quigley is currently in the hospital in ICU and she could certainly use all the good thoughts, positive vibes and prayers that you could send her way. If you have Facebook, you can also see where they are raising money in order to feed her animals while she is gone, as horses and such always need a lot of care and feed, so there is a "GoFundMe" account in her name started by Rick Lingnau. If you're able to contribute to her that way, that would be awesome. Meanwhile, we will send her our very best wishes for a full recovery from her cancer surgery and infection.
We'd also like to keep David Chamberlain in our thoughts as he was in a very bad car accident this past weekend and has multiple injuries, which will keep him laid up for quite some time. For those of you who frequent the Duck Inn, you may know him as one of the cooks, so we'll miss not having him there. I know we're all sending our best "get well" wishes to him and if there are any updates on his condition, I'll let you know as soon as I can.
LOSSES--We were saddened to learn of the passing of Pat Parker, wife of Mike and formerly of Skamokawa, as her cancer diagnosis and passing came within a relatively short time of each other, so we are so sorry for her family's sudden loss and send our sympathies to all.
We also heard of the passing of former Islander, Paul Aldinger, a great guy who lived in the Ohrberg Beach area and was just a wonderful man. We had worked for him while he lived over there and he was always a wealth of information. He and his wife, Nadine were always so pleasant to be around. Our condolences to all who knew him.
REMEMBERING--Last, but certainly not least, we got word this past weekend that this papers' owner, publisher, editor, and my former neighbor and boss, Rick Nelson, had passed away late Friday evening, June 2. While we all knew the end was coming, it's still a hard thing to wrap your head around, so it still seems so unreal to think that he is really gone. It is with a very heavy heart that I send my deepest condolences to his wife, Mary Ann and the rest of his family. RIP Rick; may you continue to play your guitar for all the angels to enjoy!