Prom on Saturday for senior citizens
Skamokawa News
NEW MONTH--A new month has begun and it's fairly shocking to realize just how fast the time has gone by. I think my winter chores in January have yet to be accomplished so I'm way behind the eight ball this year! This week looks to be dry with only a hint of cloudiness, and temperatures more to my liking, so I hope you're enjoying the sunny days. Here's hoping these 70s stick with us at fair time as that would be nice and comfy.
SPECIAL DAYS--Those celebrating birthdays from August 3-9 are Austin Smith, John L. McClain, Brian McClain, Treasure Collupy, Marsha Helms, Kamie Helms, Monte Robinson, Joe Florek Jr., Olaf Tom Thomason Jr., Maureen Zacher-Bockius, Amy Gorley, Fred Johnson, Mike Backman, Kyle Cothren, Lorraine Lechner, Marjorie Williams, Lisa Watkins, Heidi Beyer, Sandi Hendrickson, Cassi Luthi, Steve Leitz, Jenny Benfit, Jason Blain, Paydn Pedersen, Ashley Abel, Margie Wagner Pedersen, Jenny Pedersen and 67'ers Judy Lindwall Bergman, Marnee Ostervold Davis and Martin Ostervold. Those celebrating anniversaries are Jeff and Mary Baldwin, Bruce and Linda McClain, Don and Kitty Speranza, Cody and Merissa Olsen, Mark and Tina Schubert, Mr. and Mrs. Luke Thomason, Gary and Lori Hamp and Steve and Janna Doumit. Here's wishing all of you wonderful celebrations as you enjoy your birthdays and anniversaries. If you have any corrections or additions to the birthday and anniversary listings, be sure to give me a call or email me.
THURSDAY BREAKFAST--It's Community Breakfast time at the Skamokawa Grange Hall today, Thursday, August 3 from 10 to 12. Enjoy a cup of coffee and some eats while meeting with friends; make some new ones as well.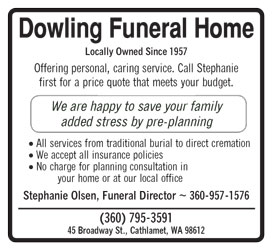 SENIOR PROM--I hope all of you folks 55 and up will head to the Hope Center this Saturday evening, August 5, as it's going to be a fun night out for the senior citizens in town. This event is geared for the crowd that is just a snitch older than those usual prom nights! Whether you bring a partner or come alone, they hope you will just show up and have a good time. There's music and dancing and picture taking, with some food and beverages and more, so head to the Hope Center. They'd love to have you RSVP so they know how many to prepare for, so email Marianne at marianneburkholder@gmail.com. If you don't have email, hopefully you know someone who does. This is a free event so now's the time to meet new friends and have a fun night out!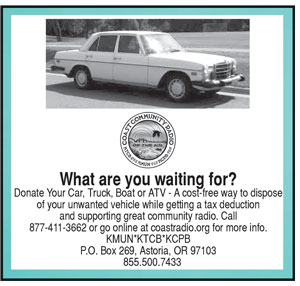 FAIR IN TWO WEEKS--If you plan on entering something into this year's Wahkiakum County Fair, please check out the fair book for all the correct days and hours that are listed for your particular category. You must place your entries into the fair at the proper times. In case you didn't know, you do get money for the various ribbons so this is a good way to earn a little extra cash. So keep in mind that the fair runs August 17-19 but entry dates are several days prior to that. Here's hoping to see you at the fair; don't forget to "Stirrup Some Fun!" Remember, fair passes are only $7 so that's a great deal. Buy one from one of the gals running for Fair Queen or you can buy them at the gate.
PICKLEBALL INFO--Just a reminder to all of you who want to get organized into a Pickleball Club. The club will meet at Maria's Place on August 10 at 7 p.m. They need volunteers so if you don't want to play but can help in other ways, here's your chance. For more info contact stowe@townofcathlamet.com.
SKAMOKAWA GS REUNION--Skamokawa's grade school reunion is set for August 18 at 1 p.m., at the upper covered area at Vista Park. They hope to see all former grade school students there and don't forget, it's a potluck, so bring a tasty dish to share!
SJFC PRESCHOOL PRE-REGISTRATION--If you've got little ones that will be three by the end of August, and would like to get them registered for preschool for the 2023-24 school year at St. James Family Center on Columbia Street, now is the time to call 360-795-8612 for all the information.
MUSEUM--If you haven't been to our county museum in awhile, then the Wahkiakum County Historical Society would like to invite you to stop by on the weekends between 1 and 4 p.m. Currently they are holding a raffle so if you'd like to get in on that, the drawing will be on August 19. There are some really awesome gift certificates that you can use around our area. Whether it's to one of the local restaurants or maybe a stay at the Cathlamet Hotel or cash to shop at the grocery store, you could have yourself some really great early Christmas gifts! Tickets are only a dollar and you need not be present to win. The museum is always looking for more bodies to help host on the weekends, so if you'd like to help out, contact Kari Kandoll at 360-849-4353.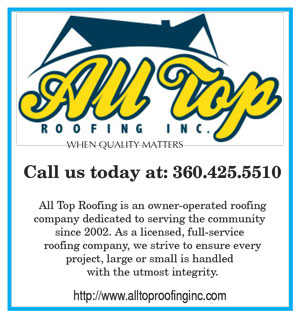 REDMEN HALL-- Our historic hall, formerly the Central School is looking for some more volunteers who would like to be docents and be at the hall on weekends. If you've got some time to help out, they'd love to train you in order to sell the books and other items for sale at Redmen Hall. Call 360-795-3007 if you need more information about this opportunity.
MUSIC FEST--The Smoke on the Water Music Fest will be held at the fairgrounds over Labor Day weekend. I hope you'll head to the website and check out all the musical acts and buy those tickets today! We're going to have quite a lot of folks in the area during that time for this event, and one of the questions asked was "where will everybody park?" There will be a shuttle bus that runs from the high school parking lot to the fairgrounds. This 3-day event, Sept. 1-3 will be a real blast and I hope you will take advantage of this opportunity to enjoy some great country music! You can buy these tickets online, or if you're a person who doesn't do that sort of thing, talk to Ryan Helms at the Duck Inn. This 3-day music fest is a first for us so let's show them all a great big welcome when they get here!
DONATIONS--Whether you're in need of school supplies, or clothes or food, this community is pretty good about rounding up things for those in need. Won't you please help the ones who could use a little boost as we go into a very spendy time of year for most? There are always businesses in town that collect these items, so watch for those bins that may be set up here and there to help those in need. You could also stick a couple bucks away for the "Shop with a Cop" event that helps kids who might not have a very merry Christmas otherwise. They will enjoy shopping with our officers and get some special Christmas gifts just for them. There's also the Star Program, where you pick a star off the "trees" around town and buy the things for that person that are listed on the star; it's truly a wonderful program. Time is flying by, so it's not too early to think or shop ahead!
BOOK NOW--Speaking of the holidays, if you're expecting company and don't have the room to host them, remember, we have several places to stay here in Skamokawa. You might let your family members know so they can make a reservation now, as they book up fast. We've got the nice condos and hotel rooms at the Skamokawa Resort. There are hotel rooms over the store if you just need a place to sleep. If your family has an RV, they might think about going to Skamokawa Vista Park as they have full hookups. The Twin Gables B&B has several different options, including a private cabin with its own kitchen. Don and Kitty Speranza have the Crippen Creek Farm out in Middle Valley, or you could head out to the end of East Valley and check out The Inn at Lucky Mud. A gift certificate for one of those places might make a nice Christmas gift!