Candidates express competing visions for Cathlamet: Michael Severson
Infrastructure, safety concerns for Severson
Diana Zimmerman
Michael Severson is challenging incumbent Joe Baker for his position on the Cathlamet Town Council.
A recent transplant to Cathlamet, Severson hails from Hillsboro. After getting a mechanical engineering degree from Portland State University, he moved into the heavy industrial sector of business, where he has been for 23 years. He now runs his own general contracting company.
Severson says he's been coming to this community with his grandfather since he was two years old, "living the boat life." He and his family moved here two years ago after he built their house.
"We were looking for a small community to raise our kids in and we really liked the values we found in Cathlamet as opposed to big city living," Severson said. "The home school community and the togetherness of people that live here and their willingness to do something for you if you get in trouble, we have experienced first hand. We love raising our kids in a community like that."
Why is he running?
"There is no diversity in our town council," Severson said. "There is no voice for the next generation of people. I find that there is substantially more people that want to complain about politics than want to actually get up and do something. This is my opportunity to do something. I plan on raising my kids here and I want to have a voice in how our town grows."
There are three things on Severson's agenda: infrastructure, safety, and community.
"I've experienced counties that do infrastructure very poorly," Severson said. "I've been in the wastewater treatment industry and the water treatment industry for about eight years now selling mechanical piping and I've seen cities that have arsenic problems because they are not doing filtration properly and not informing the community in time. Those are the things that I believe government should be doing without people really noticing them. The quality of water, the quality of sewer, nobody really wants to talk about that. That's a huge expense and something that is going to need to grow with our community."
"I didn't want to live in the Portland area because of the problems they experience with mental health and drugs," he added. "I think that that has not found its way to Cathlamet in a big way yet, but it's going to. I'm not pretending to have the answer to that. I don't think many people do.
"But I believe we need to have a plan for it because it will find its way here. That's what I mean by safety. Having a plan for mental health, a plan for drug abuse, and a plan for homelessness are three things that I believe Cathlamet is going to face in next 5-10 years, if it's not facing it already. I don't have the answer to all of those, but I believe pushing the people that may have those answers to have a plan is something we should do before it becomes a problem."
Severson believes the water treatment plant and sewer plant are undersized and is concerned about problems with pressure on Greenwood Hill.
"I've built two houses here and I've experienced firsthand how it is to work with our county permitting, our PUD, our waterworks divisions," he said. "I believe they are undersized and will have to grow. That will have to be funded in some way, shape or form. I think it's a highly debated issue whether or not the cost should be borne by the population that is in Cathlamet or by a developer coming in. That is yet to be determined."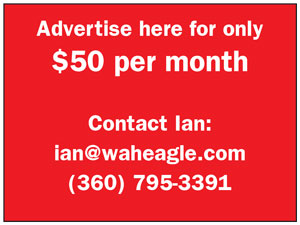 Severson is also a proponent of the proposed waterfront park, bike paths, and the pool.
"I believe that we should have invested in that long ago," Severson said of the waterfront park.
"With the grant coming in it's very helpful to make that a reality. I think we have the option of going one of two directions with the park. Option one is something that has great oversight and will be a gem to our community, old and young, for the foreseeable future. Option two, if it doesn't get controlled properly, it will come in over budget and it will cost a ton of money and may die on the vine. I would love to see it happen."
"I think another area that we could really invest in the community would be the pool. I would love to see that pool supported, not only for our youth but our older generations that could use it year round," Severson said. "I would love for the pool as well as the park to be areas where our community can gather, old and young. I think Cathlamet is missing an area for people to gather and come together as a community, and those are two areas that I see really adding to our community."
"If there was ever an opportunity to increase funding for bike paths, that would be an amazing addition," he added. "I think the whole entire community could benefit from some solid bike paths."
He believes he could provide some guidance with his background in general contracting, and add value to the town council.
"How much was spent on the Butler Street lot?" he asked. "How many cars can park there?"
"Electric vehicles are an important thing, and I understand they are something that needs to be supported, but I believe in our community there are higher needs that should be addressed before that."
"That's an area I would also like to add value, by guiding our funds into areas that help our community and our kids and our older population," he said.
"I think the more you invest in your community, the more that people are going to want to see it grow and invest in it as well," he said. "That's the hope."