Merry Christmas to one and all
Skamokawa News
DAMP--It's not that uncommon to have some miserable weather right before the holidays, but every once in awhile, it's not nearly as bad as it could be or has been, so when dealing with some rain and foggy conditions lately, I'm just glad it's not snow or ice, so I'll count my blessings. Let's hope any moisture we get isn't too heavy as we are already pretty soggy and I've seen some mini slides and falling rocks along the roadways and we're hoping "mini" ones don't turn into "maxi" ones!
SPECIAL DAYS--Those celebrating birthdays from Dec. 19-25 are Garrett McClain, Gwen Gorley, Linda Price, Lauren Elfers, Hilary Price, Marilyn Wilt, Alysha Gibson, Wendy Lechner, Tyler Gorley, Jose Castillo, John Hoven Jr., Kole Langston, Alayna Davis, Shelby Mace, Libby Thomas Ravender, Kimmie Wright, Don Seaberg, Barbara Moore Johnson, Sherry Stewart, Emma Pedersen and Ron Clement. Happy Birthday to all of you!
Celebrating their anniversary this coming week are Roger and JoAnn Reed. May you have a wonderful celebration!
FREE MOVIE--The Community Center in Cathlamet will show their last free movie of the month/year, Friday, Dec. 20 at the usual time of 7 p.m. On top of the free popcorn, they'll serve cider and cookies too; sweet! This particular movie is an all time Christmas classic which everyone loves, so if you want an old fashioned, feel good movie, this is it, just in time for Christmas. Enjoy!
SAD NEWS--Losing a loved one is never easy, but when a parent hears that one of their children has passed away, well, that's just so tough. So, we were terribly saddened by the news that Curtis Jacobson, oldest son of Dale Jacobson, was found deceased at his home in Federal Way last week. This young man was only 41 years old and his death was all the more shocking and tragic. It seems that after he failed to show up for his job at Boeing for a couple of days, family members were sent to check on him at his home and that's when he was found. We send our deepest sympathies to Dale and to his entire family, as they must deal with this terrible loss.
RECUPERATING--We want to send some "feel better soon" wishes to Rick Foster and Don Marsyla who had visits to various medical places recently to have procedures done that we hope will have them feeling better. Sometimes one has to wait awhile for good results but hopefully that will come sooner than later for these two.
CONFUSION--Some folks in Skamokawa got a notice to boil water last week. Please remember, only those of you who are on PUD water were affected. In other words, if you get a monthly bill from the PUD for your water service, then this kind of notice pertains to you, but if you don't, then this has nothing at all to do with your water. Some folks seemed to be confusing their water from their own sources, like their own wells, with "Skamokawa water." They are not the same. Again, only PUD customers needed to boil their water. However, as of this writing, Dec. 16, this problem has been resolved so there's no longer a need to boil your water. Whew!
JAM PACKED WEEKEND--This past weekend was simply slammed with sales and holiday events and it was impossible to attend them all, but it looked like most things were fairly well attended in spite of all the conflicting things going on, like: Garage sales, flea market, holiday parties, lighted parade and glass sales, etc., so I guess everything turned out pretty good. I know the lighted parade in Cathlamet had some wonderful participants; good job everybody!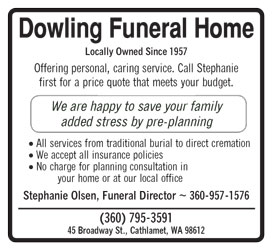 We were happy to be included with those who attended the Duck Inn's customer appreciation party, and once again, it was a great time and we got to hear our favorite band, "The King Brothers" as well. Who doesn't like that old time rock and roll?! It was great to see everybody out and about, and we got to visit with former Duck Inn employee Jeri Pierce too, as she was visiting the area after moving away earlier this year. A big thanks to Logan Britt for putting this on, having drawings for great prizes and always making us feel special!
MERRY CHRISTMAS--I can hardly believe we are saying this already, but here's wishing all of you a very "Merry Christmas," as it's happening this coming Wednesday; ready or not! I hope your celebrations are merry and bright and oh so memorable with family and/or friends or both! If you are traveling to far away places to celebrate with loved ones, we wish you safe travels during this time as well. If you're feeling a little blue because your finances won't allow you to give like you would like to, remember that giving a smile is free and so is just being kind. They cost nothing but are both deeply appreciated. Here's to nothing but fun times and good news this coming week. Have a great Christmas everybody!
OUT OF THE PAST--This week in 1959, it began nice but then got very showery and very dark. The weather stayed on the wet side until Christmas Day, which then saw a very sunny day with snow all around on the hills surrounding Cathlamet. The Sunday School Christmas program was a big hit and it was well received by all that attended. Carol Everest Pedersen received a lovely poinsettia plant from the church for her work on the program. It was a busy time for everyone with letters and packages being sent and received and lots of baking going on! It was Christmas Eve at the Krist and Carol Pedersen home with many guests, including Barbara Moore, Mrs. Healy and others. The highlight of the evening was when the Pedersens' second son, Frank, or "Frankie" as his Grandma Everest called him, had sent letters to the family and told of being in a terrible storm out at sea, but that he was ok; that he was a fisherman's son, made for being a good Navy boy! Everyone at the dinner then took turns writing a note to him via a "round robin" letter that would be mailed to him later. Family members took turns hosting dinners, so the Everests got to enjoy feasts at the Krist Pedersens, another at the Ralph and Peggy Pedersens which included Peg's folks, the Reeds, and then they had dinner at the home of their other daughter, Marian and Leon Healy, where Leon cooked the turkey and Mrs. Gertie Healy attended, as did the George Everest Family. It was truly a wonderful family Christmas with lots of nice gifts and wonderful conversations and company. This according to my Grandma Elsie Everest's diary.